Affiliate Link
You'll find a large variety of
Pontiac books
on Amazon.
---
1969 Trans Am Convertible Featuring a Ram Air IV
High Performance Pontiac Magazine Article
Yakima's Mike Johnson's 1969 Trans Am Convertible features a Ram Air IV, which was available as an option, but never built by Pontiac. High Performance Pontiac Magazine wrote an interesting article that explains Mike's desire to build this one-off Trans Am and how he "got it done". We met Mike a few years back when he hired David to do a photo collage of this Trans Am. The pictures in the article are the ones David took during the photo shoot. There's no need to get your checkbook out because Mike built this car for himself and he plans to drive and enjoy it!
The full article by Don Keefe:
When looking through the list of the most valuable production Pontiacs in history, the top-priced models have changed over the years. For a long time, the '57 Bonnevilles were the kings, and then the '61-'63 Super Duty racers.
Then the '69 Trans Am started to take off. When Pontiac spent $30,000 for a top-notch '69 Trans Am for its collection in the late-'90s, some insiders criticized it paid way more than market value. As it turned out, that purchase proved to be wiser than many initially thought. Now most well-restored '69 Trans Ams are fetching $100,000 or more.

The market for the über-rare eight Trans Am convertibles is even more exclusive—$1 million dollars or higher. Think about this for a moment: All '69 Trans Am convertibles were Ram Air III-powered (four were automatics and four were four-speeds). A Ram Air IV was available as an extra-cost option, but none were ever built. Why? The '69 Trans Am convertibles were brass-hat cars, approved in-house and delivered to General Motors executives, dealership owners, or other uses—one was even a pace car for Road America.
If one '69 Trans Am convertible had been built at the factory with a Ram Air IV engine, it would likely bring over $2 million dollars at auction, and even more if a bidding war ensued between two or more deep-pocket collectors.
One lucky Pontiac fan knows just what it is like to drive such a beast. "I decided the idea of a Ram Air IV '69 Trans Am convertible was just too good to stay in limbo," says Mike Johnson of Yakima, Washington. You may remember Mike from a feature story we did on the Dick Marson Pontiac Ram Air IV '69 Judge ("Ram Air Reunion;" Aug. '12).
When Mike took a clean '69 Firebird convertible in as part of a trade for the Dick Marson Judge, he knew he had the perfect canvas to create the Pontiac of his (and many other pure-Pontiac fanatic's) dreams. It really wouldn't be accurate to call this car a clone because none were actually factory-built. This is a phantom.
Let's start with the engine. Mike located a '68 Ram Air II block (casting number, 9792506 is the same as a Ram Air IV), which he bored 0.040 inch and fitted with a 4.25-inch-stroke Eagle crankshaft, 6.8-inch Eagle forged rods, and Ross forged dished pistons. Total displacement checks in at 462 ci.
He handled the challenge of airflow by mildly porting '69 Ram Air IV heads, which he fitted with 2.11-/1.77-inch stainless-steel valves. A Comp Cams hydraulic roller (230-/236-degrees duration) and Crane 1.65:1 roller rockers bring the lift to 0.561-/0.572-inch. A stock aluminum Ram Air IV intake and No. 7029263 '69 Quadrajet (restored by Cliff Ruggles) top the assembly. Exhaust gases exit via original Round-Port long-branch manifolds, flowing into a full mandrel-bent, 2.5-inch exhaust system with Flowmaster Series 40 mufflers and an aftermarket crossover.
Where one would normally find a Muncie four-speed, Mike swapped in a Tremec T-56 Magnum six-speed. With a 0.63 overdrive, it is a sweet match for the 8.2-inch rearend's 3.55 gears. The trans mates to the engine via a custom-built, thick-cast bellhousing, which surrounds an 11-inch Ram clutch and Hurst billet-steel flywheel.
The chassis is mildly upgraded with a 1.125-inch front sway bar from Ames Performance and a 1-inch Hotchkis swaybar out back. KYB gas shocks at all four corners provide a smooth, controlled ride, and replacement rubber bushings keep the ride taut.
In the cabin, the factory-built feel continues, but with subtle changes. The Deluxe interior is Ivory White, not Parchment, as Mike didn't like Parchment's slight yellow cast against the bright Cameo Ivory paint. The dash and carpet's color is blue, not black—it's an interesting and subtle twist on a familiar look. A Hurst shifter and stacked gauge cluster round out the vintage look.
Pure-Pontiac historians know that air conditioning was never offered on a Round-Port 400. Nevertheless, Mike added it to this build, as the six-speed keeps the engine happy without over-revving the compressor. A Ram Air III pan provides the necessary clearance for the compressor.
In order to make an authentic-appearing Ram Air IV Trans Am convertible phantom, a restorer must pay meticulous attention to the exterior details. First, the correct body panels needed to be sourced. A reproduction steel hood was mated with original air extractors on the front fenders and an authentic deck spoiler. The correct Cameo Ivory paint and Tyrol Blue Stripes were sprayed in a PPG basecoat/clearcoat system.
One clever trick that Mike did in order to get the correct wheel appearance in a 15-inch format (as opposed to the 14-inch stockers) was to custom-build a set of 15x7-inch/15x8-inch (front/rear) Rally II wheels with a 4.75-inch backspacing. This allows the use of a correct-appearing '68-'72 Corvette trim ring. Later-model Pontiac 15-inch Rally II trim rings have a rounded contour and the Corvette trim rings have the same squared-off design and are chrome-plated.
To Pontiac fans, one of history's greatest travesties is that the factory never received the order to build a '69 Ram Air IV Trans Am convertible. Yet, by its never-built status, it remains a unicorn that fuels the imagination of people like Mike Johnson. He has owned real Ram Air IV Judges and even one of the two column-shifted Ram Air IV automatic Trans Ams that were built. He is most happy with this phantom, as it has everything his factory-built Ram Air IVs had and more—increased performance, highway gears, and it can be driven without fear of destroying a piece of history.
It has only been shown once, at the 2013 GTOAA Nationals in Portland, Oregon. From here on, Mike plans to put a ton of miles on it. After all, he built this menacing phantom just for himself … and fun!
Photography by David G Photography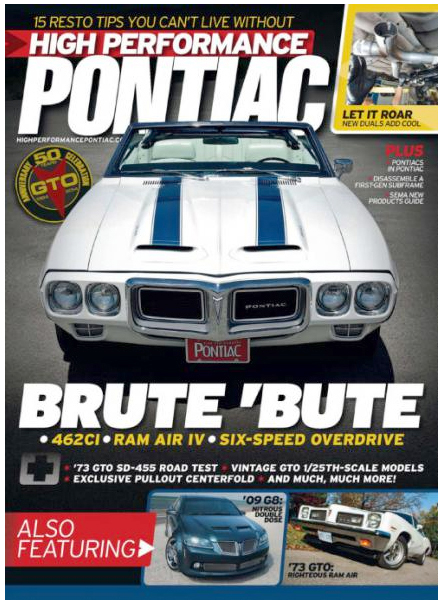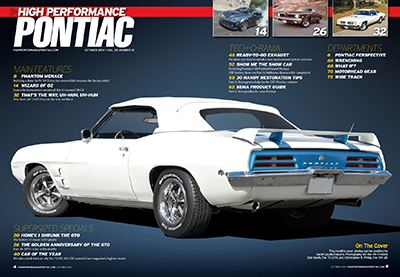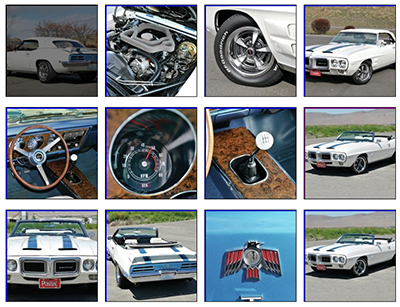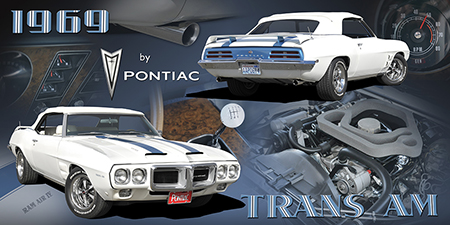 ---
Stay informed about newly listed vehicles for sale and upcoming car events!
Sign Up for our Northwest Classic Auto Mall Newsletter.
---