---
Amazon Gift Card Giveaway!
We Have A Winner !!
The July winner of the $50.00 Amazon Gift Card is:
Kim Sayre!
Congratulations Kim !
---
"List of Previous Winners"
The June 1st winner was Cindy Perdicaro
The May 1st winner was Gary Nigro
The April 1st winner was Amy Clark
The March 1st winner was Ken Armstrong
The February 1st winner was Terri Gardner
The January 1st winner was Bob Hansing
The December 1st winner was Bill Sullivan
The November 1st winner was Lou DuPuis
The October 1st winner was Juanita Adolphsen
The September 1st winner was John Crain
The August 1st winner was Jerry Mastro
The July 1st winner was Carl Milne

---
How would you like to win a $50.00 Amazon Gift Card?
Northwest Classic Auto Mall is giving away (1) $50.00 Amazon Gift Card
each month, to (1) lucky winner beginning July 1st, 2016.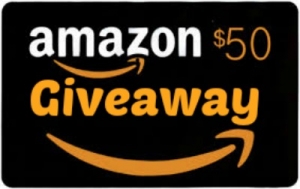 How can you enter? We'll be distributing our Amazon Gift Card Giveaway
Entry Form (see sample below) at Northwest Car Shows (check your goody bags),
swap meets, cruise-ins and more!
If you would like to request some entry forms for your goody bags or
your car club members, call (503)577-3100.
If you would like to enter, but haven't been able to get your hands on
one of our entry forms, you can enter by mailing your Name and Phone# to:
NW Classic Auto Mall
P.O. Box 1285
Gresham, OR 97030
If you would like to request some entry forms for your goody bags or
your car club members, call (503) 577-3100.
Amazon offers a large selection of Automotive Calendars, Classic Car Books,
Classic Car Jigsaw Puzzles and Automotive Artwork
for all you car enthusiasts! Whether you spend your Gift Card on
yourself or someone else, there's alot to choose from on Amazon.com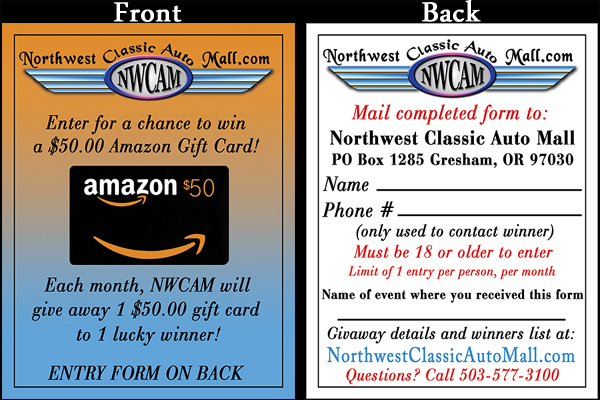 Giveaway Rules:
One entry, per person, per month!
Must be 18 years or older to win!
No Purchase Necessary!
PLEASE...remember to fill in the 'Name of the Event' where you received
the entry form. We'll also have random drawings for 'events' where we'll
be giving away FREE metal signs for the car show/cruise-in raffle prizes!
---
It's easy to share this posting on Facebook, Twitter,
LinkedIn and more, using the buttons below !
We also invite you to Sign Up to receive our
Northwest Classic Auto Mall e-mail newsletter
for updates on classic vehicles for sale and car events.