---
Break The Chain Racing / Break The Chain Apparel
Tammi Burns, owner and founder of Break the Chain Apparel and Break the Chain Racing, started this one of a kind company in Sublimity, Oregon in 2006 and is in the process of moving the company to Stayton, Oregon. Tammi is a domestic violence and rape survivor and knows first hand the damage that abuse can do long term. Tammi was determined to not let the abuse become her definition, and set out to change the world. Now, nine years later, with a racing team and a dedicated husband to encourage her, this small but mighty company is changing lives. "You are more than your abuse, or addiction Tammi says. "Stand up and be who you were meant to be." Break the Chain proudly adds John 3:16 to their apparel and race vehicles, and a large selection of the t-shirts they offer glow in the dark. Tammi says "God has given us our mission to glow in the dark and be the light for others, and we intend to do just that."

Break the Chain Racing is a unique way to get this positive message out! It is an effective way to reach people where they play! There is nothing like watching a dragster fly down the track at 150 mph speaking out against issues by simply showing up! Our edgy wraps leave nothing to the imagination as to what we stand against.
Our race vehicles have unique and empowering names: Hope the Monster display truck, Mercy the blown gas S10, gRace the dragster, Courage the drag bike, Dedication the drift car, Hotsaw the chain saw competition team and Witness the '52 pickup (not pictured).
Men, women and kids of all ages are attracted to our edgy race vehicles and super cool graphics. Break the Chain Racing is definitely the positive message with horsepower! All Break the Chain Racing teammates and their vehicles receive no compensation from Break the Chain but believe in the message. We are a small company and each member of our racing team is as dedicated to this message as we are, and are available for sponsorship. We wouldn't be able to do what we do without our dedicated sponsors lending financial support that keeps us in the public eye.
Hope Team - Jim and Tammi Burns
Mercy Team - Pat and Nikki James
gRace Team - Owned by the Taylor Family (James, Buffy, Jeffery and Kyleah)
Driver - Kyleah
Courage Team - Owned by the Taylor Family (James, Buffy, Jeffery and Kyleah)
Driver - Buffy
Dedication - Owner and Driver - Ryan Lackner
Natalie Amber and Bill Pellham, SR - Hotsaw Team
Sultan, Washington

Break the Chain welcomes sponsorships through other sports as well. Joining the team is a professional bullfighter, a professional bullrider and a professional disc golfer.
Erick Scwindt - Professional Bullfighter from Oregon
Jonathan Gentry
Professional Bullrider from Shreveport, Louisiana
Ranked 4th in the world with the WSPBR
Rick Saffeels - Professional Disc Golfer
Salem, Oregon
Break the Chain Apparel is just that. Empowering, edgy messages on t-shirts, hats, and hoodies like: Sticks and stones may break my bones but sometimes words are worse, Bullying NOT accepted in any location, or our race team slogan, 'Get back on track', and last but not least is our popular logo design. You might not race, or be a motivational speaker for our causes, but you can make a difference by simply getting dressed! 'Wear it, Live it, Race it!'

Break the Chain Apparel is more than t-shirts, and racing. We are also active in our communities. 'Hope', the Break the Chain monster truck has been in many drug free, and bully free parades and has been the guest at many birthday parties for our local community kids. 'Hope' is asked to make appearances at schools and events all over the state to raise awareness. This year we were highlighted at the Portland Roadster Show in partnership with the Kyron Horman Foundation. Break the Chain continues to support Kaine Horman's efforts, and his search for his missing son Kyron, who was abducted from school 5 years ago. We proudly display Kyron's picture with contact information on the tailgate of Hope and Mercy.

Break the Chain and the Stayton Middle School are currently working on a big anti-bullying campaign that will be introduced this year. We are excited to be part of the education piece. Break the Chain is all about bringing awareness and education to help eradicate the social issues that plague our society today. Our mission is to make a difference in our community, and encourage other schools and organizations to stand together to make an even bigger impact in our state. It is our dream to bring awareness to these causes nationally through our racing, apparel and message.
If you would like more information about Break the Chain Racing or
Break the Chain Apparel, visit the Break the Chain website!
For more information regarding Break the Chain Racing team sponsorships,
please contact Tammi at tammi@breakthechainapparel.com or (503)859-5555.
The Break the Chain store is relocating from Sublimity to Stayton, with an opening date in February 2016. We will keep you posted of when they open their doors! In the meantime, shop with them online at www.BreakTheChainApparel.com.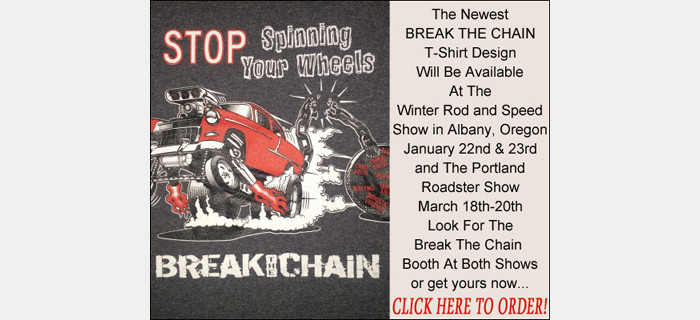 ---
Join Northwest Classic Auto Mall on Facebook to hear about newly posted
car shows, cruise-ins, swap meets and classic vehicles for sale.
To stay informed of great deals and industry news on vehicles, automotive gear, accessories,
car clubs and events, Sign Up for our Northwest Classic Auto Mall Newsletter.
---