Here's an update to the FREE Car Giveaway Contest below...
Liana West was our winner for our Wheels to Prosper car giveaway.
Liana is a mother of 6 with 4 still living at home. Her oldest boy was a Marine over in Japan when the tsunami hit, and he was diagnosed with a brain cancer while in the military and was released from wounded warriors after 5 surgeries. The kids at home are 16, 14, 13, and 11. Two of the boys have autism and her son Gabe was diagnosed with a heart defect called Postpericardiotonmy Syndrome. He is in and out of the hospital a lot and Liana had no vehicle as her van had broke down for the last time! She received 7 different nominations from people. Congrats Liana!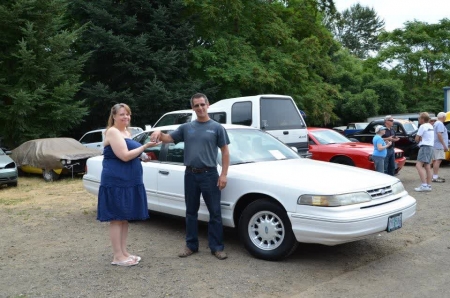 ---
Car Giveaway - Wheels To Prosper
On Saturday, June 27, 2015, Hot Rod Dreamworks will give away a 1996 Crown Victoria to a deserving person, as part of a nationwide car giveaway event. The car will be given away at 12 noon at the FREE Hot Rod Dreamworks 7th Annual Car Show being held at:

Hot Rod Dreamworks
24315 S. Hwy 99E
Canby, OR 97013
If you know of a deserving individual and/or family, in need of a vehicle, please read the flyer below as to how you can nominate them!
Thank you!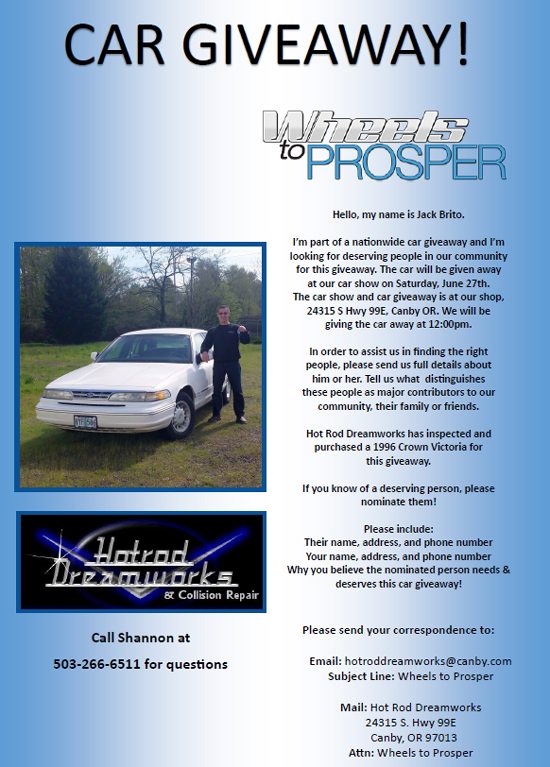 ---
Stay informed about newly listed vehicles for sale and upcoming car events!
Sign Up for our Northwest Classic Auto Mall Newsletter.
---