Classic Cars Wanted For Feature Film
I was recently contacted by Gino, who is affiliated with a film crew coming to the Bellingham, WA area next week (and a couple other locations) and they are looking for several late 40's - early 50's American cars. The cut off date is 1954. NO HOT RODS please. (See detailed list below).
The film is called 'The Mountain', starring Jeff Goldblum and Tye Sheridan. In addition to being paid to rent your vehicle, they will insure the vehicles under their production insurance and if fuel or trailering is involved, they can reimburse those costs as well.
They are searching for:
6 cars in Bellingham on 12/5/17
2 cars in Forks on 12/7/17
4 cars in Tenino on 12/8/17
If you have the types of vehicles they are looking for,
please contact Gino Fortebuono at 484-547-7423 or send him an Email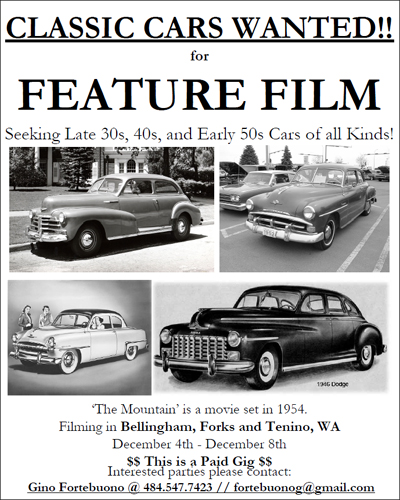 ---
It's easy to share this posting on Facebook, Twitter,
LinkedIn and more, using the buttons below !
We also invite you to Sign Up to receive our
Northwest Classic Auto Mall e-mail newsletter
for updates on classic vehicles for sale and car events.