Cruise News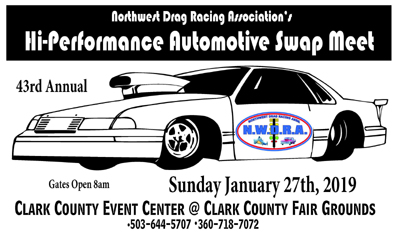 Date:
January 27, 2019
Time:
8 a.m .- 2 p.m.
Location:
Ridgefield,
Washington
Description:
43rd Annual N.W.D.R.A Hi-Performance Automotive Swap Meet
Sunday, January 27th, 2019
Clark County Event Center/Clark County Fair Grounds
17402 NE Deifel Rd.
Ridgefield, WA 98642
General Admission - $10.00
FREE Parking!
For stall rental information, call 503-644-5707 or
360-718-7072
It's easy to share this event on Facebook, Twitter, LinkedIn and more,
using the buttons below !
Click
HERE
to return to the previous page