Cruise News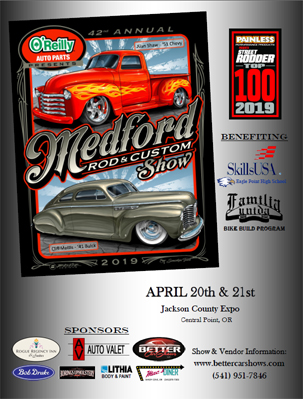 Date:
April 20th & 21st, 2019
Time:
See Information
Location:
Central Point,
Oregon
Description:
Medford Rod & Custom Show
April 20th & 21st, 2019
Jackson County Expo
Central Point, Oregon
This 2 day show features over 300 vehicles!
Show Hours:
April 20th - Saturday - 9 a.m. - 9 p.m.
April 21st - Sunday - 9 a.m. - 4 p.m.
Admission:
Adults - $12.00
Kids / Seniors / Military - $10.00
The show offers Judged and Non-Competition Entries.
Click Here to read about the options, including eligibilty to
win the $1,000 Grand Prize!
This year we are very excited to announce that the Medford Rod and Custom Show will be one of the ten shows in the United States where vehicles can compete for the Street Rodder Magazine Top 100 Cars of the Nation. Ten vehicles will be picked at the show by the Street Rodder crew to be featured in the magazine, plus each recipient will receive one of the very prestigious Top 100 Jackets. Winners from this and the other nine shows held around the U.S. will be eligible to compete for the Top Vehicle in the Nation and a $30,000 prize.
In addition to the exciting Street Rodder awards, vehicles at the Medford Rod & Custom Show will be competing for trophies and a $1,000 Best of Show cash prize.
The vendors this year will include some of the biggest names in the automotive industry.
John Gilbert, editor at Street Rodder Magazine and Mopar Muscle Magazine, will be live streaming from the show.
Rodding & Racing Magazine will also be present at the show looking for vehicles to highlight in future editions.
This year we will also be joined by Dave Nichols from Easyriders Magazine who will be covering the show as well as judging the motorcycle awards.
The Southern Oregon area is a hot bed of classic cars and hot rod enthusiasts. For the past forty -one years builders, families, friends and many others with a passion for classic cars and hot rods have been coming to this show.
You won't want to miss this fun-filled event centered around amazing custom builds, beautiful classic and vintage restorations, low riders, rat rods, and a variety of classic and custom motorcycles.
Gotta cool car? Please bring it out to the Cool Car Show outside and share it with all of the event spectators!
Don't miss the line-up of events including the Pin-Striping Brush Bash benefiting the Eagle Point High School Skills USA Program, photo opportunities and more! Bring the family, this event is tailored for all ages and offers something for everyone!
Come out and see all of our great vendors, some of them you won't find at any other Southern Oregon location! Our vendors have been specially selected for the Medford Rod & Custom Show and offer you a chance to see and purchase a variety of merchandise.
Click Here to visit the show website for more info!
Questions? Call Rich at (541) 973-9889
It's easy to share this event on Facebook, Twitter, LinkedIn and more,
using the buttons below !
Click
HERE
to return to the previous page