Cruise News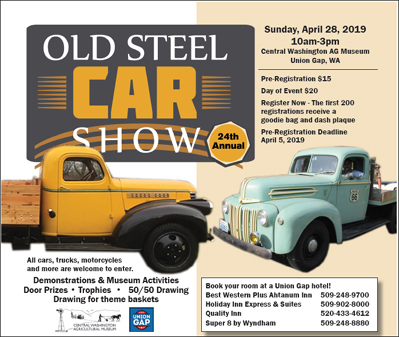 Date:
April 28, 2019
Time:
10 a.m. - 3 p.m.
Location:
Union Gap,
Washington
Description:
24th Annual Old Steel Car Show
Sunday, April 28, 2019
10 a.m. - 3 p.m.
Central Washington AG Museum
4508 Main St.
Union Gap, Washington 98903
Pre-registration Fee - $15.00 (by April 5th)
Day of Event - $20.00 - Registration starts at 8 a.m.
The first 200 registrations receive a Goodie Bag and Dash Plaque
All years, makes and models of cars trucks, motorycles and more are welcome!
FREE for spectators
Food vendors
Demonstrations & Museum Activities
Door Prizes
Trophies
50/50 Drawing
Drawing for theme baskets
Proceeds benefit the Central WA AG Museum
Questions? Nick at 509-457-8735 or Email info@centralwaagmuseum.org
It's easy to share this event on Facebook, Twitter, LinkedIn and more,
using the buttons below !
Click
HERE
to return to the previous page