Cruise News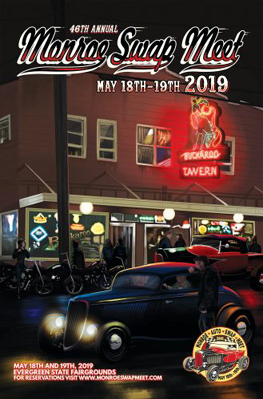 Date:
May 18th & 19th, 2019
Time:
See Information
Location:
Monroe,
Washington
Description:
46th Annual Monroe Auto Swap Meet
May 18th and 19th, 2019
Evergreen State Fairgrounds
14405 179th Ave SE
Monroe, WA 98272
Saturday Hours: 8 a.m. - 5 p.m.
Sunday Hours: 8 a.m. - 2 p.m.
Swap Meet details and online stall booking can be found at www.MonroeSwapMeet.com
Vendor Stalls - $45.00 per stall ($47.00 online per stall)
Vendor Stalls may be sold at the Fairgrounds during the event if they are available starting at 10 a.m. on Friday May 17th
FREE admission for all spectators/buyers
The CAR CORRAL is in area 32 and is dedicated for selling cars, trucks, projects and motorcycles. It opens on Friday (5/17/19) at 12:00 pm noon and closes on Sunday at 2 pm. You can leave your vehicle for three days including overnight as there is security on site. If you wish to display and SELL your car, please turn up on the day of the event, pay $40 (cash) and park your car, projects on trailers O.K. ($50), motorcycles only $30. Tow vehicle parking is another $20 plus another $20 for empty trailers. Sorry, no pre-bookings available.
Questions? Reservations Call Trina Rees at 206-397-2085 or
for general information, Call George Ruch at 206-636-4255
It's easy to share this event on Facebook, Twitter, LinkedIn and more,
using the buttons below !
Click
HERE
to return to the previous page