Cruise News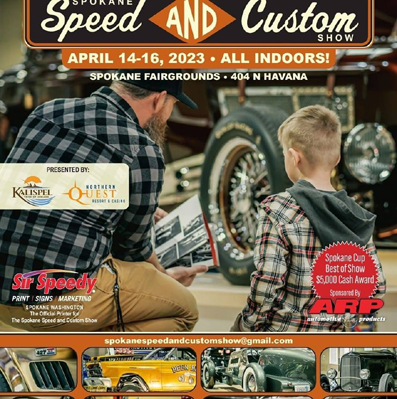 Date:
April 14th - 16th, 2023
Time:
See Information
Location:
Spokane, Washington
Description:
7th Annual Spokane Speed and Custom Show
April 14th - 16th, 2023
Spokane County Fair and Expo Center
404 N. Havana St.
Spokane, WA 99202
Click Here to visit the show website!
Click Here for registration prices and form.
It's Official!
The legendary Don 'The Snake' Prudhomme will be in Spokane for the 7th annual Spokane Speed and Custom Show, Friday and Saturday April 14-15 2023! Incredible racing history/experiences and knowledge and just an all around good guy! He'll be signing autographs both days...time to be announced once we closer to the show dates. You won't want to miss this!!
Calling all Muscle Cars!
One of the three Theme Rooms for the 2023 show will be dedicated to the Muscle cars of days gone by. Rare, Big Blocks, high winding small blocks, and all that was the muscle car generation. Rare original barn finds to show restored muscle cars 1962-1972....there will be something in this room for everyone!
FAMILY HAULERS
The Trucks that hauled the firewood or motorcycles, the Van or Wagon that hauled the family off to soccer or road trips..and not to forget the in-between work horse...the El Camino and Ranchero! One room full of light hauling pickups and El Camino types...Vans..and of course FAMILY trucksters..the wagons! Most everyone can remember one of these growing up....this will be a great variety of makes and built styles that all started out as the FAMILY HAULERS! Applications are available on the show website now. Limited space means...don't wait for your chance to be IN the show!
Also Featuring a car Ian Roussel built on the TV show, "Full Custom Garage"!
---
Stay informed about newly listed vehicles for sale and upcoming car events!
Sign Up for our Northwest Classic Auto Mall Newsletter.
---
Click
HERE
to return to the previous page