---
The following story is in the recently released
2nd book in The Old Car Nut Book series.
Both books from The Old Car Nut Book Series are available
for purchase on the David Dickinson Author Page
---
Heroes, Promises, and Survivors
by Erich Bailey

My love of American cars began in 1961 at the age of 15. I was a German citizen, and after seven long years living in an orphanage, my brother and I were reunited with our mother, younger two sisters, and brother. My new stepfather, Edward H. Bailey, a US Army WWII veteran stationed at Schweinfurt, Germany was brave enough to adopt all five of us and was prepared to take us back to the USA. He was my new hero and as a bonus, he had an awesome 1955 Chevrolet station wagon. It was the first American car I ever rode in and was part of my becoming a lover of old American cars. My mother named it "Leisel" which, in German, means "God's promise"... a fitting name for what was part of a new beginning for all of us.
When my stepfather was transferred to Fort Ord, California, "Liesel" was loaded on the ship USS Upshur, along with all seven of us, and we made our way to New York City. We drove our Chevrolet across the USA to California and what a great trip that was as we watched God's Promise roll out before us, mile after mile. I was proud to be an American.
Sometime in 1963, I was able to land a part-time job at $1.25 per hour. Eventually, I saved enough money to buy my first car. It was a '57 Chevrolet Bel Air and I paid $900 for it with the help of my parents. I would take my girlfriend to the local drive-in movie or sometimes cruise up and down Alvarado Street in Monterey on weekend evenings. We often drove the Bel Air, Big Sur, and Pacific Grove's Lovers Point.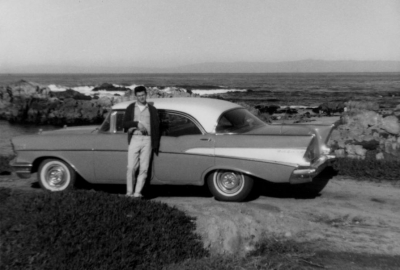 When I had surgery on my shoulder and could only use one arm to drive, I attached a "Suicide Knob" to the steering wheel. I got around just fine in spite of my temporary disability. Those were the days!
Sadly, I did some really dumb things to that poor car, like removing the gold V8 emblems, plugging up, and painting over the holes. Once, I offered to give a push to my friend's Ford when he couldn't start it. That event broke the beautiful front grill to pieces, leaving a large gaping black hole in front of the radiator.
A 1961 Corvair Monza caught my eye one day in 1964 and the final insult to the beautiful Bel Air was to trade it in. Corvairs were fun little cars, but the fun was short lived because I knew I would soon be drafted into the Army. It was the Vietnam War era and instead of waiting to be drafted, I decided to join the Air Force in 1965. So, I had to give up the Corvair.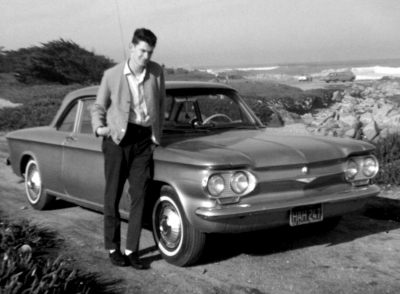 The Air Force, Vietnam, and marriage to that same girl I cruised with in my '57 Chevy Bel Air with the suicide knob, along with three kids, including surprise twin girls, were my priority the next years. My cars, mostly Chevrolets, were just basic necessities for the family and work. We shipped our family car, a giant Chevrolet Kingswood station wagon, to Chitose AB, Hokkaido, Japan where I was stationed for two years. It was lots of fun navigating those narrow streets there in that giant American station wagon!
In 1967, at the age of 60, my father in law, Tom Di Mercurio, another one of my heroes, bought a Marina blue 1967 Chevrolet Impala Sport coupe right off the showroom floor from Roller Chevrolet in Monterey, California. He always wanted a car like that and after working hard all his life and raising four daughters, he finally was able to get it for $3600, a lot of money to him back then. He would jokingly say one thing he liked about that car is he could easily carry an eight foot 2x4 home from the lumberyard in it with only a short part of it sticking out the window. I fell in love with that car from the first moment that I saw it. While he owned it, it never left the state of California and he put less than 35,000 miles on it before he passed away in 1985.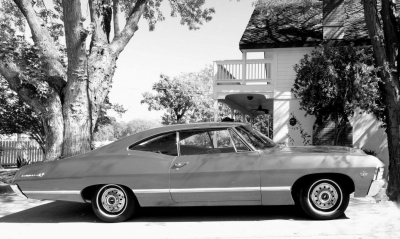 The car survived a teenage grandson, who did some tinkering to it for a couple of years, before my wife and I took ownership in 1987 and in turn gave it to our daughter and her husband as a gift. They promised to return it one day down the road. In 1988, they drove our first grandchild home from the hospital in that car and it was their daily driver from 1987-1991. After that, they kept it well maintained and garaged until 2012.
By 1988, with kids raised, we were living in San Jose, California and I started to think about getting a first generation Camaro, my favorite muscle car. Driving down Story Road one day, I spotted a 1969 dark green metallic Camaro Sport Coupe with a "For Sale" sign. They were only asking $1800 and I knew I could swing it. I've always been a fan of stock/original cars from the '60s and I never wanted to own a hot rod or modified car. This one was a basic Camaro Sport Coupe, but pretty highly optioned. The decision was easy and I made it mine. Over the last 25 years, I've restored and repainted it back to better than original condition. It's a beautiful car that I am very proud of and for those years, it was my only "old" car.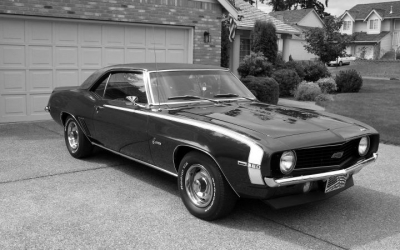 In August 2012, I received a call from my daughter. She wanted to return the 1967 Impala to us. It had been parked in their garage and covered for many years, but my son in law was into motorcycles and needed the space. For years, every time I visited I would look at that car and subtly hint that I wanted it back by saying "I want that car!" So, of course, I jumped at the chance to get her back and had her shipped from Sacramento, CA to Washington State, where I live now.
She refused to start when it was time to load her on the truck, and my son in law said, "She doesn't want to go!" She just needed to be pushed. When the delivery truck arrived at her new home, again she had to be pushed into the garage. I crawled under her and there were thousands of spider webs woven into all the parts, hanging off the tail pipe, and even hanging off the 12 bolt 273 rear end. This car desperately needed some TLC.
The odometer read only 63,000 original miles, but the vinyl seat covers had gotten brittle with age and the cracks were covered with a towel. Getting it running was easy. I fixed some minor problems like loose wires and did a carburetor tune up, gave her some new fluids, and she was running great. Some of the gauges didn't work and one at a time, I was able to fix those small problems. She drove great then, but getting her to stop took some effort. She doesn't have power brakes, the four drum brakes were worn, and the master cylinder was shot. But, I fixed all of that myself.
The gas gauge did not work and I ended up installing a completely new gas tank and sending unit with the help of some good friends, Cliff and Terry. The use of Terry's lift made it much easier to install. I ordered OEM seat covers and my car show buddy, Cliff, helped me install them over the course of a couple of days. We found some interesting things when removing the seats to work on the covers, including $1.79 in 1950-60s coins, hair ties, stickers from my grandchildren, and even hairpins from my mother-in-law. Transferring the original seat buttons from the old seat covers to the new ones was a little time consuming, but well worth it. I was hoping to find a build sheet under the back seat, but there was only a hand written paper with the VIN number and some factory option numbers. Of course, I saved that.
Under the hood, I cleaned up the original 327 V8 engine and very little touch up paint was needed. In 2013, I went to 20 car shows with the Impala and even won a few trophies. One great thing about this car is that it was my wife's Daddy's car and money is almost no object. So, when it needs something, it gets it. The one exception to that rule would be the exterior paint. While fairly nice looking, even from a short distance, it's not perfect and that's just fine. She's been in the family since new and like all of us, this grand old lady has earned her few dings and minor scratches and I consider them badges of honor or marks of courage, if you will. She is a survivor and I think she likes her new home.
---
Stay informed about newly listed vehicles for sale and upcoming car events!
Sign Up for our Northwest Classic Auto Mall Newsletter.
---