---
The following story is in the recently released
2nd book in The Old Car Nut Book series.
Both books from The Old Car Nut Book Series are available
for purchase on the David Dickinson Author Page
---
I Never Let Go!
by Bill Jackson
When I was a 12-year-old boy growing up in the San Fernando Valley, I had a dream of owning a Hot Rod. It was the summer of 1948 that I had bought a copy of Hot Rod Magazine and fell in love with one of the featured cars, a '29 roadster. I knew I must have one similar. I found a track T roadster body that was set up for a Model A frame. The doors were welded shut and it had been cut down for entry over the top. Sadly, this car was never finished and many others that I have owned since have suffered a similar fate.
Then, in 1951, my dream car was found in a Canoga Park used-car lot. It was a '32 roadster. I bought it and took it to a friend of mine who did bodywork. After a few months, we decided the body just wasn't worth the effort to fix. That was a letdown, although I felt that all was not lost, because I still had the chassis and I would put a '29 roadster body on it.
Well, my world crashed in the fall of 1951 when the California Fender Law came into effect. This law was not taken lightly by police departments and driving such a vehicle on the streets guaranteed you a multitude of traffic tickets. My desire to own a fenderless car was still there, but I became a little more amenable to the idea of having fenders on my car.
In 1952, a scrap collector stopped by my folk's house and told me of a '29 roadster body that was for sale in the town of Newhall. I went there and didn't care much for the condition of the roadster, but in an unfinished garage next to it sat a complete '32 Tudor Model B that was all in pieces. I bought it and found that it had been in an accident and the K member had been bent. The body had not been hurt and so here was a perfect use for the roadster chassis. That was until I thought of all of the problems of registering a Tudor that was supposed to be a roadster.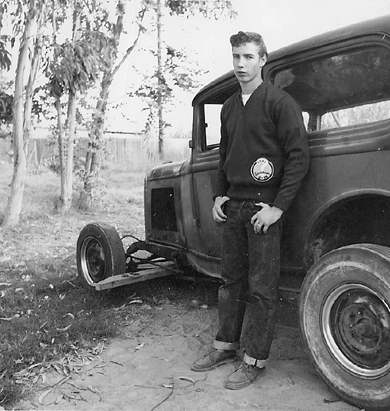 In late 1953 or early 1954, in Reseda, the town in which I lived, there was a chopped Tudor being sold. I thought this would be the perfect set up and so I bought it. Because my body was in much better condition, I put it on the newly acquired frame and used my running gear. Registration was now easy.
I installed hydraulic brakes, a dropped axle, big and littles, used the filled shell and King Bee headlights from the roadster, and removed the parking lights. The final thing was the addition of an early V8 engine with an extremely radical Winfield cam.
I drove it to high school in my senior year. In about December 1954, I had stopped at a stop sign and was accelerating in second gear when I hit a tar patch on a concrete road. One of the rear tires bounced off the road and when it came down, I lost most of the gears in both the transmission and rear end. I was suspicious that it was the rear end that had failed first, so it was time for a stronger one and a general cleanup of the car. It was not driven again until 2012, but I didn't give up on it.
In 1955, the car was torn down again to the bare frame, by now for about the umpteenth time. I painted the running gear white which was a trend at that time. Then I bought a 1940 rear end and had the driveshaft shortened to fit.
My favorite car running around the Valley in 1955 was a deuce Vicky owned by Edward Babcock. He had not shaved the shell nor removed the parking lights and with a louvered hood amongst other things it has been a major influence on the way my car looks today. I have just recently located Edward through his brother-in-law and had hoped that he had pictures of it, but alas, there are none.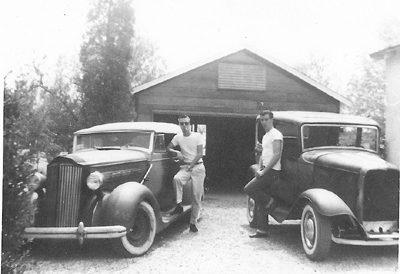 I had put the engine out of the '32 into a '40 Mercury and sold it. Now, I was looking for a new engine. A friend of mine, Michael Larson, had recently built a full race flathead and had blown a clutch at the Saugus drag strip. This engine had a C&T stroker kit, making it 285 cubic inches. Along with this, it was ported and relieved, had Edelbrock heads, and a three carb manifold, along with a good Iskandarian 400 junior cam, H&C dual coil ignition, aluminum flywheel, and of course, headers.
For some reason, he decided to sell the engine and I bought it. This was to be the engine for the Tudor. My daily driver at the time was a nice clean '40 Ford Standard Coupe and every once in a while the big flathead would find its way into its engine compartment.
I was finally working a full-time job and so I turned my attention to making my car a little nicer. Well, the days of white paint were gone and now chrome was in vogue. I started going to Ford Parts Obsolete on Florence Boulevard in South L.A. almost every weekend to see what had come in during the prior week. I was able to buy all the running gear parts NOS and these I had chromed; even the parts inside the brake drums. Everything under the car was chromed.
I was fortunate enough to know two of the finest people and top fuel drag racers of all time, Ronnie and Jeep Hampshire. They were being noticed early in their racing careers and through them I was able to buy many racing parts for the car, including a new Halibrand quick-change rear axle, Bell racing wheel, and more.
The years went by and I met the woman I would marry in early 1960. Our second date was to the March meet in Formosa California. I had a great time. She, not so much, and I did not go back to the drag strip again until the summer of 2010. After we were married, my responsibility was with my family and home, so the car got shoved to the back of the garage. Ten years went by and a divorce meant I had to leave my home. I had no place to go and my parents weren't all that happy about seeing me at their front door, let alone dragging my "old car" with me.
I had no time to figure out what to do with my collection of parts, so they were all given away, including the Halibrand, the big flathead, shelves of early transmission clusters, a full set of decent '32 fenders, and much more.
A few months later, I bought out my ex-wife's equity in the house and moved back in. I was home again, but not able to afford to work on the car for almost another 20 years. The body was put on a rolling rack and the frame hung on the wall during most of those years, a constant reminder of the unfinished work I had been putting off. By the end of the 1980s, I realized that I had to finish it or let it go. I chose to finish it.
I wasn't sure where to start, though. I had been away from the hot rod scene for almost 30 years. I began with the basics and the more time I spent with the project, the more I would learn and remember from my youth. All was going well until the company I worked for started downsizing their workforce. In 1990, after 34 years with the same company, I was looking for a job.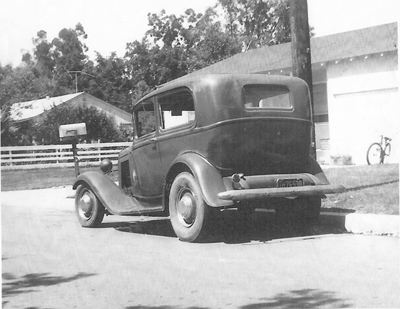 I had often thought of moving to the Pacific Northwest and believed with the high California home values, I had what I considered substantial equity and with my meager retirement, I felt that move was a possibility. However, in 1990 the value of my house dropped $40,000 and it would take years of retirement income to make that up. So, I decided to wait it out and continued to work on the car. Initially, I didn't think it could get worse and I just had to be patient and let values rise again. But, by the end of 1993, the house had dropped in value to about $100,000 less than what it had been when I retired.
On January 17 of 1994, at 4:31 AM, life as I had known it changed. The Northridge earthquake destroyed my house. This caused a complete change in plans. Over the next few years, the house problems were finally solved and I moved to Washington State around 2001. The '32 was not worked on from the time of the earthquake until about 2007.
I took a loan out on my house in Washington and started to think about what to do with the car. I was now in my 70s with little background in building modern hot rods. I knew that if I tried learning to weld, paint with the newer materials, and deal with the closer tolerances of the higher power engines, I would be learning on what would become a very expensive automobile. I found an excellent builder in the form of Bill Duncan and let him and his knowledge finish the job for me. Besides, I just wanted to get it done so I could enjoy it!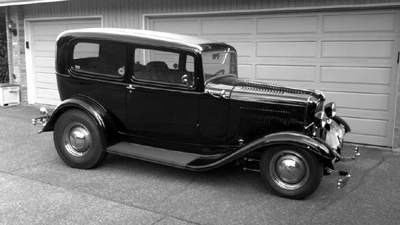 To the casual observer, my car will probably look like a nicely done non-period correct black cookie-cutter '32 Tudor, but through the old eyes of that once young 12-year-old boy, they will see a lifetime dream having finally come true.
Thanks to all of my many friends for their help and encouragement throughout the years. I never let go of the dream, because I never let go of the car!
---
Stay informed about newly listed vehicles for sale and upcoming car events!
Sign Up for our Northwest Classic Auto Mall Newsletter.
---