Kyron Horman - Missing From Portland, Oregon
Since our website reaches a worldwide audience, we ask you to keep an eye out for Kyron Horman, who has been missing from the Portland, Oregon area since June 4, 2010. You can read more about the now 9 year old, Kyron, and the ongoing search for him on the Bring Kyron Home Website.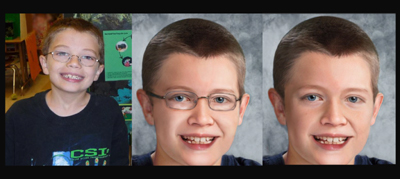 Kyron was last seen at Skyline Elementary in Portland, Oregon on June 4th, 2010 when Kyron was 7 years old and wore glasses. The age progressive pictures above show him with and without glasses. The Missing Kyron Horman Facebook Page offers photos, updates, and continuing ways the public can help in the search for Kyron and bring him home. We also invite you to visit the The Kyron Horman Foundation Website where they are Building Awareness Campaigns to Bring Missing Children Home. The Foundation is dedicated to assisting the families of missing children through advocacy campaigns. The website offers ways to spread awareness for missing children. Together, we can be a part of bringing these precious children home, where they belong.