Are you looking for the perfect gift for your Mustang friend or family member? How about some new décor for your Mustang Room or Man Cave? Check out these Ford Mustang Metal Signs, Neon Lights and Clocks!
---
Mustang 50th Anniversary Parade - April 12, 2014
Woodburn Drag Strip, Woodburn, Oregon
Updated July, 2014..... It's Official! Participants of the Mustang 50th Anniversary Parade held at Woodburn Drag Strip on April 12, 2014, are Guinness World Record Holders for both The Most Fords in a Parade (829) and The Most Ford Mustangs in a Parade (766). Congratulations to all of the participants and a big thumbs up to the Mt Hood Mustangs and Fords Club for their hard work to make it all possible! A job well done!!
April 12, 2014 Parade - To celebrate the 50th Anniversary of the Ford Mustang, members of the MHMF (Mt. Hood Mustangs and Fords Club) made plans to attempt to break TWO World Records with the largest parade of Mustangs and Fords ever! Mustang and Ford owners gathered at the Woodburn Drag Strip in Woodburn, Oregon on April 12, 2014, and with the initial count of 829 vehicles in the parade, there appears to have been record breaking numbers in attendance! With cloudy blue skies above and alot of horsepower on the parade route, those who were able to attend this "once in a lifetime event", can mark it off their bucket list and store it in their memory bank. For those who weren't able to make it, we hope you enjoy browsing through the links of pictures and videos we have posted below.
Links for additional pictures/videos are at the bottom of this page.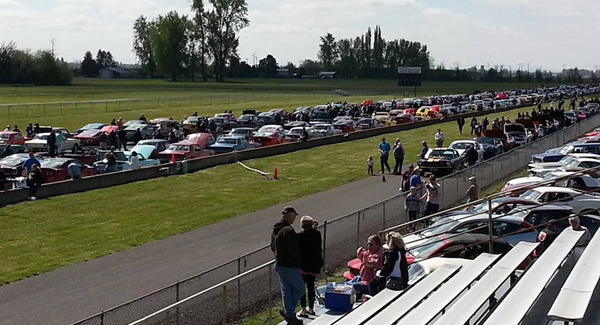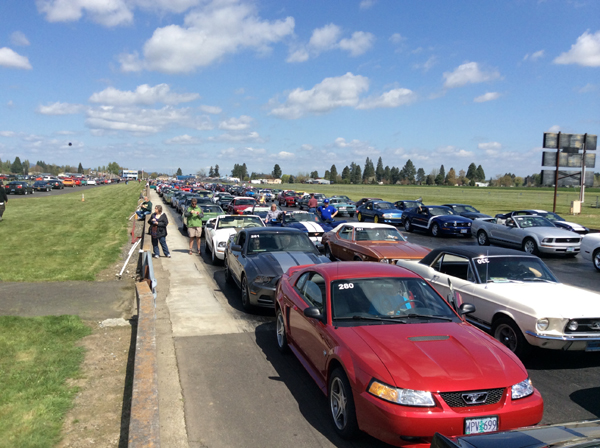 Photo by Justin Fuszek
Hundreds of Mustangs line the track at Woodburn Drag Strip in
Woodburn, Oregon on April 12, 2014, in an attempt to break 2 world records
for the most Mustangs in a parade and the most Fords in a parade.
---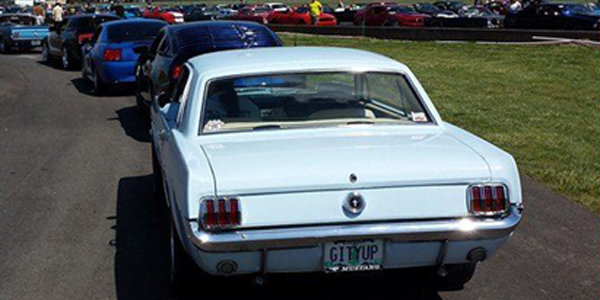 Many of the Mustangs had personalized license plates, like pictured here
with Karen Koch's 1965 Mustang Coupe, that reads "GITYUP".
Looking for the perfect gift for the Mustang fan?
Browse through the selection of Mustang Books On Amazon
---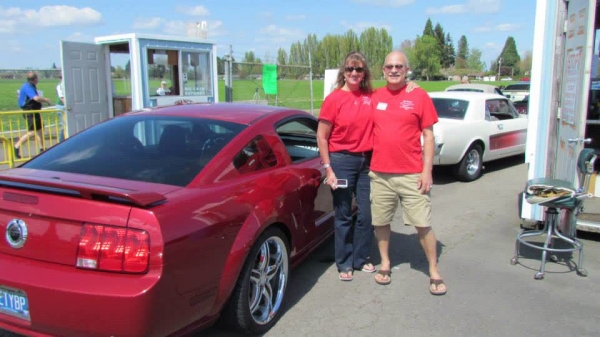 Mustang Wranglers of Oregon's President, Dave Webster,
drove his 2004 Mustang Cobra Coupe in the parade.
I wonder how many clubs were represented in the parade?
---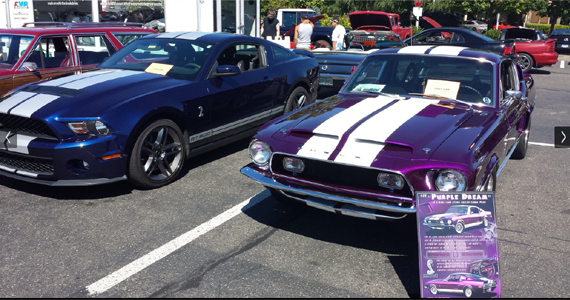 Ray and Ann Clack's '68 GT 350 Shelby Cobra "Purple Dream"
Ray and Ann were 2 of the 6 member committee team who
planned the "50th Mustang Anniversary Parade", along with
Lisa Mills, Randy Barnete, Jim Gardner and Neola Larsen.
---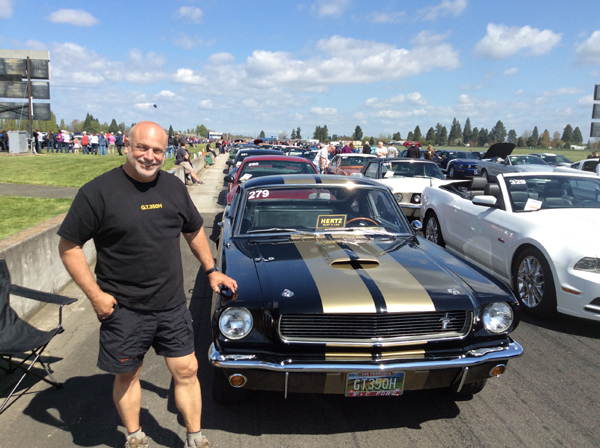 ---
Here's a few of the states that were represented in
the parade, along with British Columbia, Canada!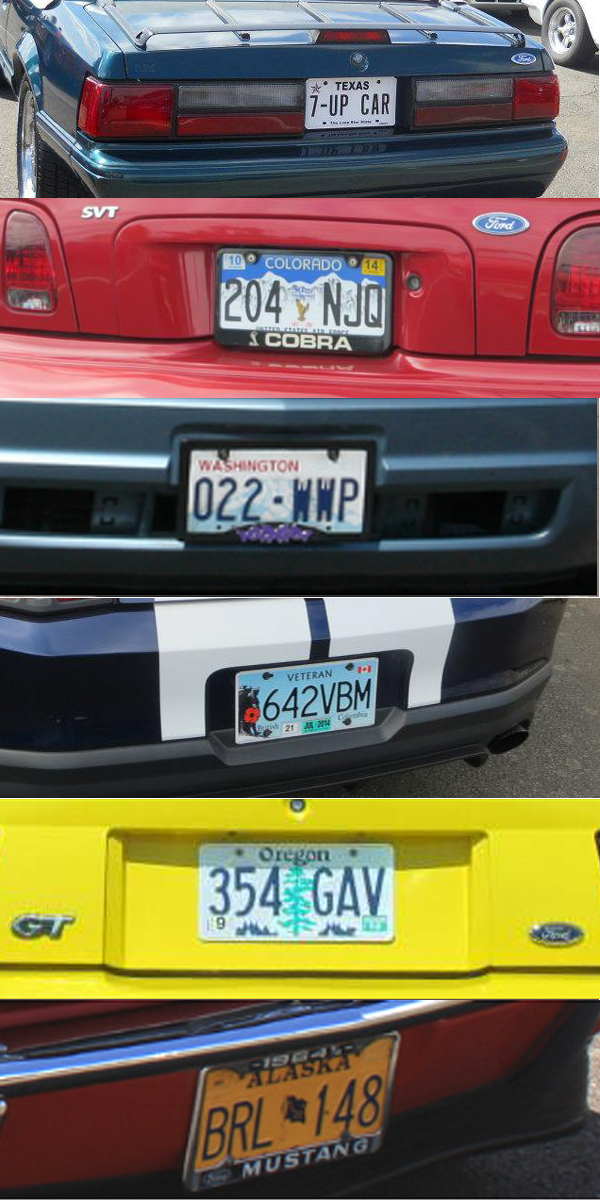 A quick view of pictures show participants from Oregon, Washington, Colorado,
Texas, Alaska and British Columbia. If you were at this event from another state or
province, e-mail us your picture and we'll add it to this collage!
---
Here are links to more pictures and videos, sent in by others. Thank you to those who shared them with us!
Event Official Flickr Page: Mustang 50th Anniversary Parade Woodburn
Jim Clack, parade participant: 50th Anniversary Mustang Parade on Flicker
Dave Webster, President of the Mustang Wranglers of Oregon: 50th Anniversary Birthday Celebration at Woodburn Drag Strip
Karen Koch, Mustang owner and parade participant: Mustang 50th Anniversary Parade
A ride along the parade route with a video from LibertyBanjo YouTube
If you have links to your photos or videos of this event, please e-mail them to us and we'll add it to our list here. We'll give you credit for your photo contribution. Thank you and enjoy!
---
Stay informed about newly listed vehicles for sale and upcoming car events!
Sign Up for our Northwest Classic Auto Mall Newsletter.
---