---
"Old Gold"
The Story Behind This 1961 Corvette
While many Corvette owners try to limit the miles they put on their cars, Doug and his wife, LaDonna are taking trips, attending car shows, cruising everywhere and anywhere, to help their "Old Gold" reach 500K miles.
Doug and LaDonna are the 3rd and current owners of "Old Gold", a 1961 Corvette they inherited in 2009 from their friend, Bob. The car was sold new in Syracuse, NY and then Bob purchased it used when it was 1 ½ years old, in Grand Rapids, Michigan.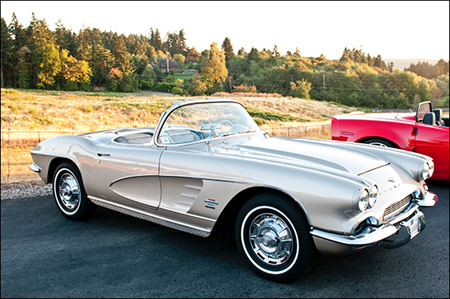 Bob was an auto shop teacher in northern California who had participated in and won many troubleshooting contests through the years. It was in 1969 when Bob and his teammate went to the National Troubleshooting Competition in Indianapolis and took 1st place.
Bob and Doug met in 1982 when Bob was a student of Doug's at the GM Motors Training Center in Tigard, Oregon. Doug was a Training Manager at the facility and Bob would drive "Old Gold" to the training center for classes and workshops. After his retirement from teaching auto shop, Bob moved to Bandon, Oregon and was involved in the community through the high school automotive department.
In 2009, Bob passed away from cancer and willed the car to Doug and LaDonna, knowing Doug would care for the car mechanically and fulfill Bob's dream of "Old Gold" reaching 500K miles.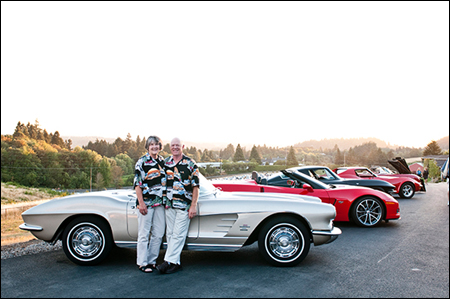 In addition to local car shows, short distant road trips and nearby cruise-ins, Doug and LaDonna drove "Old Gold" on a Big Adventure in 2011 to rack up the miles on "Old Gold". The 40 day trip included stops across the states, visiting many of Bob's family and friends, as well as theirs. They shared stories, took pictures and created some incredible memories along the way. Lucky for all of us, Doug and LaDonna kept a blog of their trip and invite you to read it!
---
Stay informed about newly listed vehicles for sale and upcoming car events!
Sign Up for our Northwest Classic Auto Mall Newsletter.
---