---
Oregon Garden Car Show
Silverton, Oregon - August 2013
We attended the car show at the Oregon Gardens in Silverton this past Sunday and David was able to capture some pictures, in between the rain showers. There were 57 cars in attendance and they all looked spectacular at the Gardens. Even with the rain, we all had a great time and listened to the sounds of DJ Bruce with Runaway Productions. Bruce and Robyn are always entertaining ...click here for more pictures!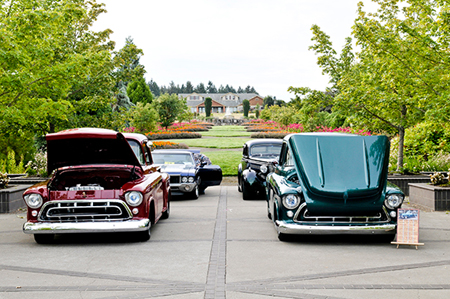 ---
Join Northwest Classic Auto Mall on Facebook to hear about newly posted
car shows, cruise-ins, swap meets and classic vehicles for sale.
To stay informed of great deals and industry news on vehicles, automotive gear, accessories,
car clubs and events, Sign Up for our Northwest Classic Auto Mall Newsletter.
---