(Affiliate Link)
---
January 25, 2023 - I recently was notified that Facebook no longer allows Business Pages (as ours was), to advertise vehicles for sale on a Business Page. It must be advertised through the Facebook Marketplace. That being said, our Facebook Page was 'canceled' because they think Northwest Classic Auto Mall 'sells' vehicles, which we don't, we only advertise for sellers. They still would not re-activate our long-running Facebook Page.
In an effort to keep our Northwest Classic Auto Mall website on Facebook, I have decided to start a 'Northwest Classic Auto Mall Cruise News' Page on Facebook, where I can continue to share upcoming car shows, cruise-ins and swap meets in the Northwest. We'll also post pictures and videos of events we attend.
I hope you'll give it a look and 'Like' it, so you'll be able to share car event information with your Facebook friends and family.
Click Here to visit our NEW Facebook
'Northwest Classic Auto Mall Cruise News' page!
Thank you!!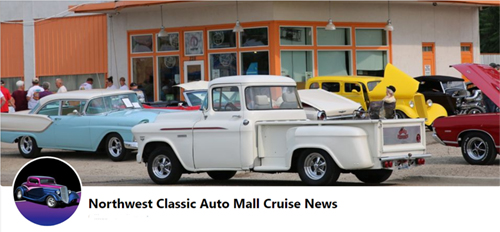 ---
Our Facebook Page Has Been Unpublished
October 2023 - were recently notified by Facebook that one of our posts/ads went against Facebook Policy and that our page was 'temporarily suspended'. Since that time, I've tried to get answers as to what policy we were violating, with little help from Facebook. My request for an explanation from Facebook goes unanswered and reaching them by phone is impossible. The page now says it is 'unpublished', so I'm assuming it's gone forever. I will not be starting a new NWCAM page since Facebook won't give me the courtesy of a response so I can make an effort to 'fix' the issue. Here at NWCAM, we pride ourselves on our Customer Service and I expect the same Customer Service from other companies.
---
Stay informed about newly listed vehicles for sale and upcoming car events!
Sign Up for our Northwest Classic Auto Mall Newsletter.
---