---
If you enjoy puzzles, check out these nostalgic looking puzzles of
Classic Cars, Route 66, 50's Diners and more!
These make great raffle prizes or gifts for your car buddies! Click Here!

---
Reader's Rides - Val Dutson's 1933 DeSoto Coupe
Back in 1968, I decided to go back to college for a higher degree to improve my chances of finding a job. On Sundays we made it a habit of going to the Alameda Flea Market, just west of Berkeley, and we nearly always found some treasures. I remember one time finding a complete, new old stock '36 Ford radio still in the box. I didn't buy it because the guy wanted $25 for it, which I thought was way too high. A few Sundays later we were cruising through the flea market and I spotted this '33 DeSoto Coupe. The front end was off, in pieces, and sitting in the back of a pick-up next to it. It had a 392 Hemi sitting on some home made mounts, attached to the rails. I was always interested in Mopars, particularly the early 30's. I walked up to the guy while looking the car over and ask him what he wanted for the car. He came back, without hesitation, with "$35.00". I said, "I'll take it". I had bought my first old car. Then I realized I had no place to store it. That didn't change a thing. I borrowed a trailer and went to his house and hauled it home. It sat in my driveway in Berkeley for a few days until I rented a storage place.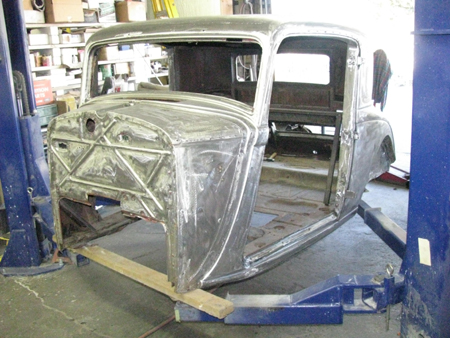 When finished at Berkeley, I went across the Street and started working for the California State Health Department. I worked there for about 10 years before deciding to move back to Oregon. While working for the state, I managed to work on a few cars that I aquired. I finished a '37 Hudson Super Terraplane 4 door, a '37 Chevy Coupe and a '39 Studebaker Commander Coupe. I still have the Terraplane but sold the Chevy to a friend of mine that owned an auto parts store there in Berkeley for $1,500 and thought I made a lot of money. I traded the Studebaker for a '61 Lincoln Continental Convertible that I drove for several years and ended up taking it to the Cow Palace where there was a huge collector car auction that was advertised world wide. They spent too much money on adverising, I was told, and went bankrupt after the auction and I lost my car. I had just paid for a new exhaust system and seat repair right before the auction. That was the only auction I have ever put a car in. I guess that doesn't happen anymore but I still haven't regained enough trust to use one again.
We moved all of my cars (I think there were 8 by then), a '33 Pierce Arrow, '41 Imperial Sedan, '37 Hudson Terraplane Sedan, '33 Dodge Convertible, '33 DeSoto Coupe, '40 Pontiac Convertible, '28 Gardner Roadster and a '51 Nash Healey) to SW Oregon. The DeSoto sat in a barn with at least 15 other cars for about 35 years. Actually, the collection had grown to about 25 cars stored in several places over the those 35 years. I loved old cars. I had more GM cars than any thing else and developed a special liking for the 50's styling. A few of the more notable cars I restored was a 1957 Pontiac 2 door hard top and kept it for a few years and it went back to the Bay Area in California. The proceeds of the sale allowed me to work on the next project. I built a '40 Pontiac Convertible, '65 Ford Cobra kit car, a '65 El Camino, a '64 Dodge Polara 500 Convertible, and a '41 Lincoln Continental Convertible with all of the running gear from a '94 Lincoln Mark 8, including the front and rear suspension before getting busy on the DeSoto rumble seat coupe just two years ago. Don't know why I tend to save the car I most want to finish and drive for last. I enjoyed each of them, however, and especialy loved the satisfaction of finishing and admiring those beautiful cars.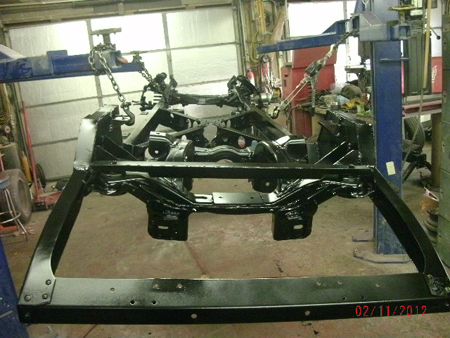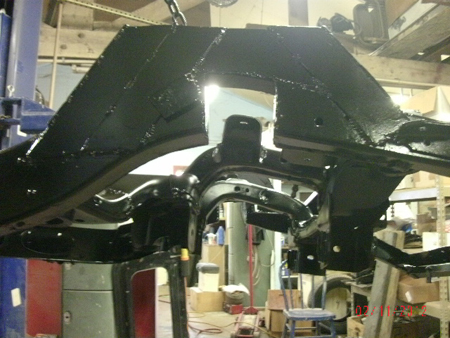 The DeSoto was a very straight and a rust free car, probably because I stored it inside a dry place for about 45 years. The original blue paint was sanded off the body and I dismantled the rest of the car. I sandblasted the frame and decided to install a '97 T-Bird independent, disc brake, rear axle assembly and a Volvo front suspension with disc brakes (converted it to power rack and pinion). I chose these suspensions because I already had them and they were free. Not always the best choices for performance sake, but when on a budget...
I hated to cut the trunk floor with factory paint still on it in order to install the rear axle assembly but in order to get the car down low enough I had to cut into the frame and build above to strengthen the rails. The body is nearly stock as seen finished. I found a '56 Desoto Hemi bored to 300ci, at a swap meet in Redmond, Oregon that had very few miles on a complete, professionally built engine and installed it. Had to cut some notches in the front fenders to accommodate the wide heads. It is a close fit. The engine came with a flywheel and scatter shield that I adapted to a
Chevy S10 5 speed overdrive transmission.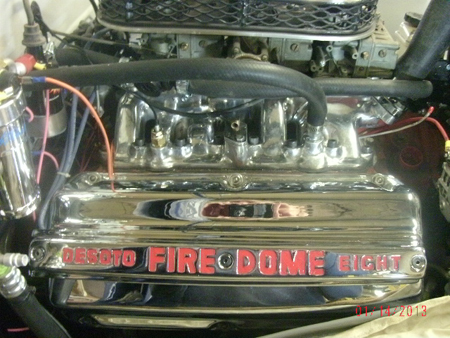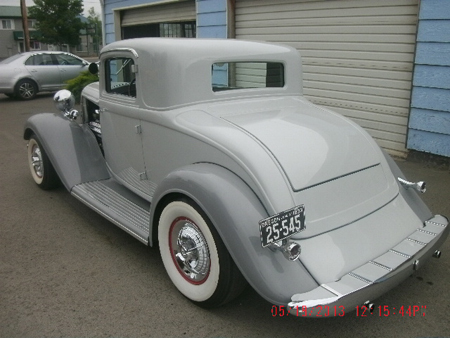 The interior is wool broadcloth that is a copy of the original pattern. The dash and steering wheel came with the car and I wood grained the dash and garnish mouldings to match the steering wheel color which I only had to spray with clear to bring out the details. I think my total investment in the car is about $8,000.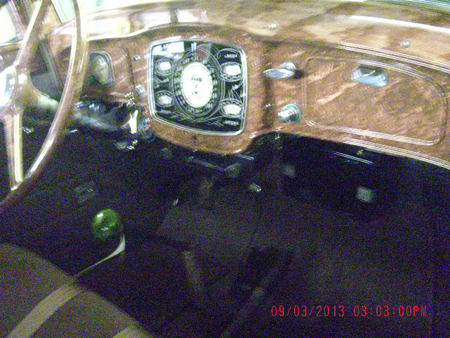 The light grey is a mid 80's Ford color called "Smoke" and the darker is a
fleet choice just two shades darker. It is a very nice driving car.
Hope to see you all at a car show or swap meet in the near future.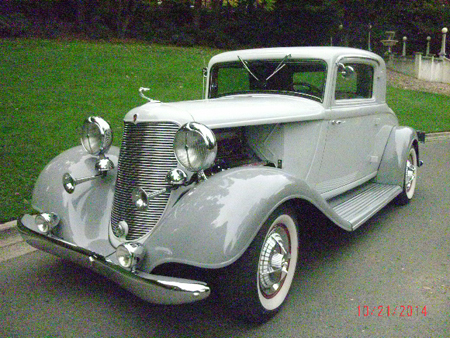 ---
Stay informed about newly listed vehicles for sale and upcoming car events!
Sign Up for our Northwest Classic Auto Mall Newsletter.
---