---
The following story is in the 1st book in The Old Car Nut Book series.
All the books from The Old Car Nut Book Series are available
for purchase on the David Dickinson Author Page
---
Shaker Do II vs. The Big Dog
by Tom Glide
It was Detroit, The Motor City, 1967 and I had already developed a love of fast, noisy, and visually striking cars. A '57 Chevy that belonged to a friend of my big brother still fills my mind's eye as if it was yesterday. Imagine the Fonz or Vinnie Barbarino in a badass street machine... cool is cool.
I couldn't tell you what it had for an engine, but my little eight year old ears could hear it coming from three blocks away. When it was outside our home, it rattled our windows. A two-door 150 sedan, painted a sinister looking dark green, it had big cheater slicks on black steel rims out back and skinny tires on mags up front. The front sat up a bit and white painted headers poked out of the fender wells behind the front tires. It had a roll bar, two bucket seats, and a Hurst white ball shifter. I vividly remember the cartoon version, painted on the trunk lid, depicting it doing a wheelie and smoking the tires with a Rat Fink behind the wheel. The words "Shaker Do" were emblazoned above it. This car was all business; a badass street machine that won a lot of trophies in the gas classes at both Detroit and Motor City Dragways.
The look and sounds of that car haunted me for years, so when I found an incredible deal on a two-door '57 Bel Air in 1983, there was no doubt in my mind what I wanted to do with it. It was also an old drag car at one time; mothballed when the engine and rear axle simultaneously blew. I painted it dark green metallic and went to work on the broken drivetrain.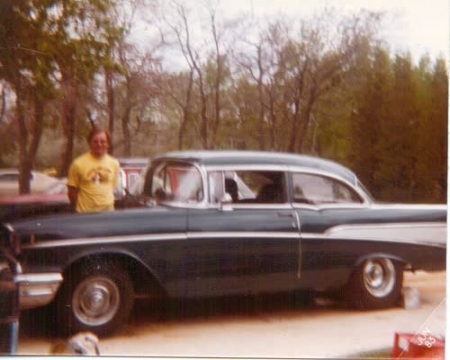 I hand built a destroked 327c.i. V8 with 12.5:1 compression, a full roller cam valve train, and many more carefully chosen parts that all worked in perfect unison. The M-22 close ratio Muncie "Rock Crusher" transmission that came with the car was now set up as a crash box, having the synchros removed for speed in shifting during racing. Power transferred to the rear wheels through a beefed up '57 Olds rear axle with 4:11 gears.
Small, subtle lettering on the corner of the trunk lid read "Shaker Do II". It sounded, ran, and even looked a lot like its namesake.
It was, weather permitting, my daily driver for years and while it saw a lot of street racing, once in a while I'd take it to the local drag strip in Ubly, Michigan. The old gas classes that the original "Shaker Do" used to run in were long gone, so I had to settle for bracket racing.
On one such occasion, the prize was $5000 to win, which was hard to resist for a lot of people. On most weekends, the track saw the usual local racers, along with a few that would venture up from Detroit now and then. With that kind of money at stake, the place was packed.
The money was attractive, but I was also there to test out a warmed over Holley carb a friend was trying to sell me. He used to run it on a similar '56 Chevy years ago, and the timers were proving it to be good for a couple of tenths of a second faster. Life was good. My car was running better than it ever had and I had the opportunity (albeit slim) to win a pile of money.
As I looked around, I noticed everyone's attention was focused on a custom painted and chromed out Chevy dually towing a matching three axle enclosed trailer as it rolled through the gates. A crowd formed around it when the crew of five, in matching uniforms, rolled a brand new, state of the art IHRA legal Pro Stock Camaro out of the trailer. The owner/driver quickly began to show the crowd how big of an ass wipe he was, bragging up himself and his car. There was even a complete spare "Mountain Motor", transmission, tires and other expensive parts in the front compartment of the trailer. He already knew that the $5,000 prize money was his. Racing for it was just a formality.
He made a few time trial runs, shutting it off at the 1000-foot mark, before writing a dial in on his window that was FAR below what his car should run. It was the oldest trick in the book. Catch 'em fast, then let off just enough to stay ahead and stomp the brakes at the end to prevent a breakout.
None of us played that game. We raced for fun. We all ran the best we could and the best car won. Often that came with help from the guy (or parts from his car) that you just beat in the last round. But, the big money had brought out the big dogs and their big bags of fancy tricks. Were this guy and his car really that good to succeed at brake light racing?
When it came time to race, I learned that I had drawn him as my opponent in the first round. Lucky me!
After writing an 11.65 dial in on my window, which was about the best my car had run, I told myself to tune "Chuckles" out, focus on the tree, stage deep and try for the best reaction time I could. I simply had to race the track and myself. "Pay no attention to the man behind the curtain!" I thought to myself.
Still, his ridiculous 10:16 dial in, for a car capable of at least 9:90, was pretty intimidating. I would only have roughly a second and a half head start. Plus, I'd be going through the lights doing almost 120 mph with this jackass standing on his brake pedal right next to me. Anything could happen.
When the second yellow went out, I sidestepped the clutch, the green lit up, and the electronic board at the finish line posted a .012 reaction time. Friends later told me that I lifted the front wheels three inches off the ground. The car was pulling like a freight train, but when I yanked the shifter to second, the engine died instantly. The front came down with a thump and I rolled along in total silence other than the sound of the electric fuel pump running.
Then, I heard what sounded like a Top Fueler taking off in the left lane and noticed his reaction time was .002! I was sickened to see that cat puke yellow Camaro blow past me as if I was backing up. He kicked it neutral, and then shut it off. He was going to show me how good he was by coasting to a win. I mentally pictured him back in the pits, gloating on about how easy it was to kick my ass.
Then, a funny thing happened.
I realized that I had instinctively pushed the clutch in when the engine died. It stopped so fast I kind of wondered if it blew up. Or did it just stall out? Either way, I thought my day was over, but I didn't see my crankshaft laying on the tarmac in the rear view mirror. The M-22 was still in second, so I let the clutch back out to see if my car would start. Hopefully, I could at least drive it off the track under its own power.
It fired right up and seemed to be running fine!
I shoved the gas to the floor and took off. When the tach hit the 7500 redline, I cranked it into third. As I caught up to the Camaro, the driver was fiddling with the ignition switch and start button with one hand, while frantically trying to get his finicky Lenco transmission back in gear with the other.
I passed him just as the tach reached the redline again and I grabbed fourth. My foot was on the floor. That's all there is and there ain't no more. I held on and hoped as I heard his car roar to life.
The howl of his engine approaching sounded like it was going to suck up my car and spit it out this time. He passed me again just as I streaked through the lights with a miserable 13:57. The finish was so close I couldn't tell who crossed the line first. Then, the timing lights on his side lit up. He had run a time of 10:14.
He didn't have time to brake light race me, because he had to stay on it the whole way to catch me. As a result, he broke out of his bracket by two tenths of a second. The win light came on in my lane and that's bracket racing for you!
Unfortunately, I didn't go on to win the event, but I did become the hero of the day for taking out the stoutest car there in the first round. Everyone enjoyed watching the Camaro owner and crew silently load everything back up and leave before the second round started. I was happy to see a local racer eventually take home the prize money to his wife and kids. He even bought me a beer after the races.
Through trial and error, we found that the new carb made my car leave so hard, anything less than ¾ of a tank would slosh away from the fuel pickup in the front of the tank and starve the engine. Once we moved the fuel pickup to the back of the tank, the problem went away.
A couple of years later I met a girl and started a family. As the old story goes, the toys were the first thing to go, including my beloved Chevy, but I have no regrets. The engine was sold to a local racer, who continued to pound on it for years. It just wouldn't die! The body went to a friend's son who was going to bring it back to its former glory, but he moved to Kalamazoo, got married, and sold it before he got the chance to do anything with it. I often wonder if anyone ever got it running again and had as much fun as I did. I sure hope so!
I do know that, in the event I fall into a large sum of money, one of the first things I will do is find another '57 body and start Shaker Do III. Maybe I'll start my search in Kalamazoo!
---
Stay informed about newly listed vehicles for sale and upcoming car events!
Sign Up for our Northwest Classic Auto Mall Newsletter.
---