---
The following story is in the 2nd book in The Old Car Nut Book series.
The Old Car Nut Book Series are available for purchase on the David Dickinson Author Page
---
Some Things Just Go Together
by Dave Darby
Have you ever found yourself on an old two lane highway, and looked down the road in wild wonder at the things you'd never see from the interstate? Barns, farmhouses, old motels, gas stations, tractors and more... Real Americana...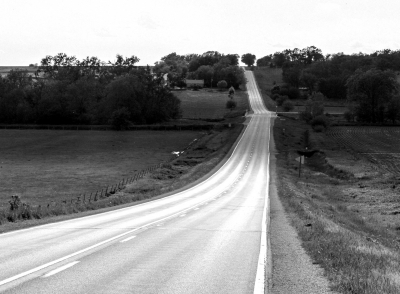 The old two lane highways evolved from Indian trails, to stagecoach lines, to dirt roads, and finally to highways. The paths they take are steeped in history, filled with the ghosts of millions of forgotten travelers. Towns and farms, and school houses were built alongside them as they meandered over hills and valleys, curving around, and dodging property lines. I was lucky enough to grow during the waning heyday of these times. When the two lane US highway was king. When motels had names like the Crown, Archer, and A-Ford-O. It was a time when you could pull up to a gas pump and a uniformed attendant would fill your tank with hi- test, clean your windshield and check your oil.
Some of these old motels and service stations survive to this day, and all you have to do is get off the beaten track, and go look for them. For instance, in Brooklyn, Iowa, on Old US 6, there is a Standard station that was built in the 1930's where you can still get full service. More than that, you can make new friends. People in these small towns have more time to stop and chat, and swap stories, and history. Indeed, you come away from these places with far more than just your purchase. What a change from today's modern interstates, that are built as straight and flat as possible, with nothing older than an occasional McDonalds. There is no history, no individuality on an interstate. What you find there is mass produced, in the name of profit.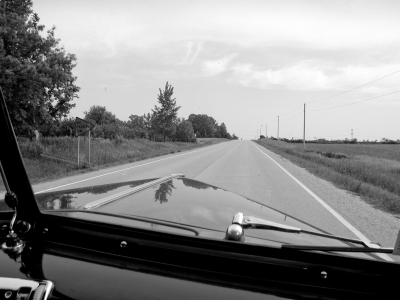 These old American highways are a great drive for any car, but they're even more perfect for your vintage car. After all, what other really cool ways do you have to enjoy a classic car? You can park them in your garage and stare at them, bring them to a car show and sit in a chair by them, or you can drive them... but where? Certainly not on the interstate.
With the windows down (the perfect way to enjoy an old car), it's too noisy, plus dodging the semi-trucks on a road bereft of scenery takes all of the joy away. But, that two lane highway beckons you toward a relaxing tour of real Americana and becomes your own personal comfort zone. With the windows down you can smell the wild flowers and occasional pig manure.
The best roads are those old stretches of pavement untouched by time, much like the car I am about to describe to you, which is perhaps the penultimate car to take on a road trip like this one.
Most street rods you find at your typical car show have been built within the past few years, with nary a vintage part on them. As you wander around through the mixture of fiberglass, billet, and steel, you may find yourself longing for that sense of history, that soul of a long forgotten mechanic twisting wrenches in the midnight oil back in the Eisenhower era. That smell of old mohair and naugahyde, decades old grease, oil, and rust, that you don't find in today's street rods, many of which are basically just glorified kit cars. Even your restored cars have paint and finishing materials on them that was manufactured in the last two or three years.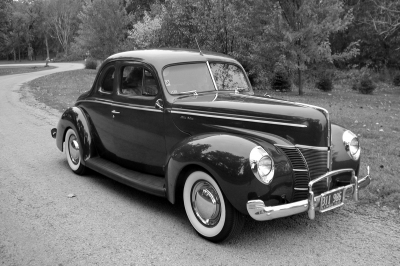 But, Dave Southwick's 40 Ford coupe is different from these cars - completely different. There is not one piece on this car newer than 1957. In fact, the last time something was added to this car was in 1957. This ride is a genuine Hot Rod survivor. The real deal, with soul, and genuine history. So let's set the "wayback machine" to 1950, settle in, and follow the story of Shorty's Ride.
Bill "Shorty" Etes bought this car in 1950 from the original owner, who purchased it new in 1940 from Williamson Ford in Rockford, Illinois. While we don't know his name, we do know that he took excellent care of the car in his 10 years of ownership, as did the subsequent owners. The paint, chrome, and interior are the same that Henry the first applied way back in 1940.
Shorty and his brother Jim drove the '40 in stock form until 1953 when they were bitten by the need for speed. Forsaking Henry's flathead, they hustled on down to the local Cadillac dealership and hauled home a brand new 331 crate motor. They adapted the Caddy to a Lincoln overdrive tranny and two speed rear end. To provide some extra whoa to the go, Lincoln air cooled brakes were used at all four corners.
Over the next 4 years, Shorty and Jim constantly updated that Caddy engine with dual quads, a high lift cam, and lots of chrome. The car was well known as a street racer around the Etes' home town of Byron, Illinois, and showed its taillights to many an unsuspecting rod, as witnessed by a much younger Dave Southwick.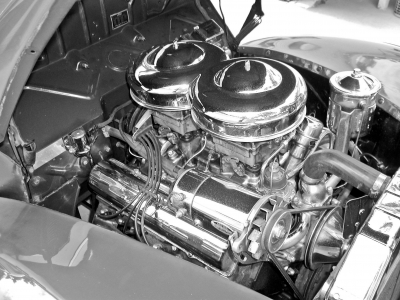 Unfortunately, tragedy struck in 1964 when Shorty passed away, a victim of sugar diabetes. The car was put into storage for the next twelve years. During this time, Shorty's brother Jim also passed on, in 1971. Dave, having known the family for years, finally convinced Shorty and Jim's Mom to part with the car that had so enthralled him as a young pup since 1976.
Dave has continued to take the same tender loving care of this car as the previous owners and is justifiably proud of its hot rod heritage. Dave took me for a ride in this rod a while back and it was so much more than just a ride. There is something special about riding in an unrestored 74 year old hot rod. The sound, the smell, the feel, all take you back to a time long passed. Anyone who has ever ridden in an old unrestored car knows what I am talking about. Sure, the car has a few signs of wear. The paint on the tops of the fenders is getting thin and there are a few frays in the upholstery, but who cares when that's the same stuff that this car has worn since it left Dearborn seventy four years ago?
The materials and methods that make this car up are long ago forgotten and irreplaceable. Indeed, this car is a rarity. I took a whiff of that unmistakable aroma, a mixture of 70 year old mohair, rubber, oil, gasoline, and an exhaust that hasn't been emasculated by a catalytic converter and it took me back to my youth, when horsepower was king. This was a time when romance was found at the sock hop or the soda shop, not on a dating site, when teenagers were wrenching on old iron instead of playing video games.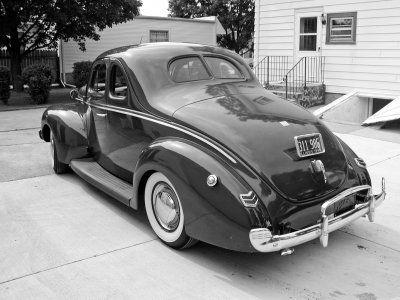 But, unlike a video game, this was a real time machine rolling me back to bygone days. Looking out through that two piece windshield over a pointed hood, while driving down those same roads just like Shorty and Jim did, listening to the purr of that throaty Cadillac mill, was if those two were looking over our shoulders from the back seat, and smiling in satisfaction of a job well done.
Dave Southwick is a keeper of history and is preserving the legacy that he has been entrusted with and for that, we owe a debt of gratitude.
---
Stay informed about newly listed vehicles for sale and upcoming car events!
Sign Up for our Northwest Classic Auto Mall Newsletter.
---