Join Us!
Virtual Car Show on Facebook!
See below for the
Virtual Car Show List of Winners!
I recently saw a Facebook post on the page of the Fourth Corner Elites Car Club in the Bellingham, WA area. They started a Virtual Car Show on their Facebook page where viewers posted a picture of their 'ride' for all to enjoy. We have started one also on our Northwest Classic Auto Mall Facebook Page and will hold a Virtual Car Show on Saturdays and Sundays, while the regular car show season is on hold due to the COVID-19 restrictions. We hope you'll join us!
After every Virtual Car Show, 3 Random Winners are chosen by the use of a 'number generator website' and the 3 Winners have a choice between one of many metal signs or the new Corona Classic Virtual Car Show Medallion. Since introducing the Medallion as a prize option, EVERY Winner has chosen to receive it as their prize! Since the Winners are chosen randomly and this is a non-judged show, we are now making the Medallion available for purchase as well. It measures 2-3/4" in diameter and comes with a Red, White and Blue Lanyard. This Corona Classic Medallion has some 'heft' to it and feels good in your hand. If you would like a memorabilia of our Virtual Car Show, they are available for purchase as well, for $10 each, or (2/$18, 3/$25 or 4+ for only $8 each) which includes shipping (US Addresses only). International shipping is extra. Call us at (503)577-3100 to place your order. We're on our second batch already!
Click Here to visit our Facebook Page for details!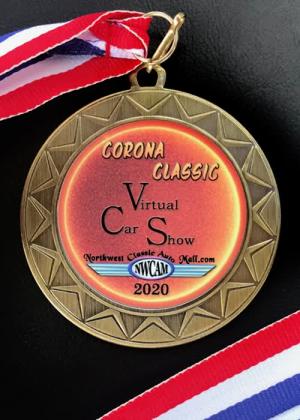 Virtual Car Show Winners:
---
Virtual Car Show #14
Sunday, May 10, 2020

---
Virtual Car Show #13
Saturday, May 9, 2020

---
Virtual Car Show #12
Sunday, May 3, 2020

---
Virtual Car Show #11
Saturday, May 2, 2020

---
Virtual Car Show #10
Sunday, April 26, 2020

---
Virtual Car Show #9
Saturday, April 25, 2020

---
Virtual Car Show #8
Sunday, April 19, 2020

---
Virtual Car Show #7
Saturday, April 18, 2020

---
Virtual Car Show #6
Sunday, April 12, 2020
---
Virtual Car Show #5
Saturday, April 11, 2020

---
Virtual Car Show #4
Sunday, April 5, 2020
---
Virtual Car Show #3
Saturday, April 4, 2020

---
Virtual Car Show #2
Sunday, March 29, 2020

---
Virtual Car Show #1
Saturday, March 28, 2020