Cruise News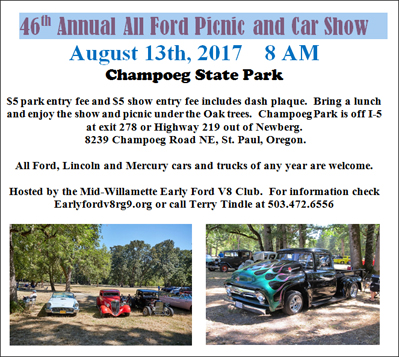 Date:
August 13, 2017
Time:
8 a.m. - 2 p.m.
Location:
St. Paul,
Oregon
Description:
46th Annual All Ford Picnic and Car Show
August 13, 2017
Starts at 8 a.m. (Most people leave by 2 p.m.)
Champoeg State Park
8239 Champoeg Road NE
St. Paul, Oregon
Park Entry Fee - $5.00
Show Entry Fee - $5.00
Dash plaque for all car show registrants
For all Ford, Lincoln and Mercury cars and trucks of any year
Spectators are FREE, but must pay the park entry fee of $5.00
No vendors or commercial food allowed, so please
bring your own food and beverage.
250+ vehicles are expected (no limit)
Park under the shade of oak trees!
Visitor parking is in a separate area.
Click Here to visit the club website for more info!
Questions? Contact Terry Tindle at (503)472-6556 or
Arnie Hollander at (503)474-9544 or email hollander.arnie@gmail.com
It's easy to share this event on Facebook, Twitter, LinkedIn and more,
using the buttons below !
Click
HERE
to return to the previous page