Cruise News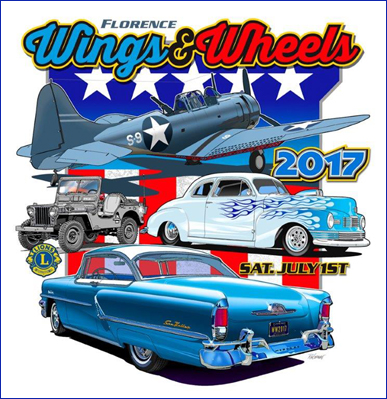 Date:
July 1, 2017
Time:
7 a.m. - 3 p.m.
Location:
Florence,
Oregon
Description:
Wings & Wheels 2017
July 1, 2017
7am-3pm
Florence Municipal Airport
2000 KINGWOOD
Florence, Oregon 97439
Pre-registration - $20
Day of Show - $25
Open to all show worthy cars and trucks
Not just Sweet Rides, but Classic Military Aircraft too!
This year we're bringing in a SDB Dauntless, World War II Dive Bomber.
And you can get a ride... • We will be offering rides throughout the day... We will raffle off one ride...Tickets are $5 and will be available at the Florence Chamber Visitor's Center, and other locations. How cool is that?
The Dauntless is coming thanks to the City of Florence and Three Rivers Casino Resort...

The Military Vehicle Group will also be offering free "Convoys" all day long with rides in vintage military vehicles down the length of the airport and back.
Spectators are FREE, however the High School Wrestling team asks for a $2.00 per car load donation.
Vendors are welcome...
Over 20 local and regional Not For Profits involved on the grounds with displays.
Food by Florence-Siuslaw Lions Club and Ada Grange
Live 50's and 60's music by Back in Time all day with two performances by Florence Dance Guild.
Groups involved include a display by the Central Oregon Coast Military Vehicle Group (15-20 vehicles) and Central Oregon Coast British Car Club (15-20).
Dash plaques to the first 100 entries...25 trophies
Really... Limited to 100 cars (last year 110)
Register Now • Registration Form Here •
Entry forms also available at O'Reillys...The Chamber Visitor's Center...
This show benefits the Florence-Siuslaw Lions Club and the City of Florence
Questions? Contact Mike Groshong at 541-997-2687 or
Email at jmconnections@lycos.com
It's easy to share this event on Facebook, Twitter, LinkedIn and more,
using the buttons below !
Click
HERE
to return to the previous page