Cruise News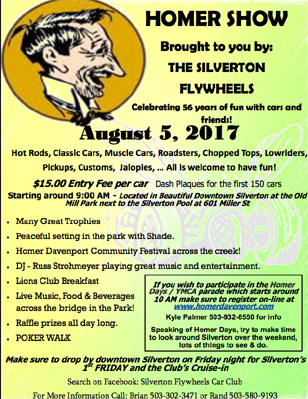 Date:
August 5, 2017
Time:
9 a.m. - 3 p.m.
Location:
Silverton,
Oregon
Description:
Homer Show
Brought to you by: The Silverton Flywheels
August 5, 2017
9 a.m. - 3 p.m..
Located in Beautiful Downtown Silverton, Oregon
at the Old Mill Park, next to the Silverton Pool
at 601 Miller St.
Entry Fee per car - $15.00
Dash Plaques for the first 150 cars
Hot Rods, Classic Cars, Muscle Cars, Roadsters,
Chopped Tops, Lowriders, Pickups, Customs, Jalopies...
ALL is welcome to have fun!
Celebrating 56 years of fun with cars and friends!
Many Great Trophies!
Peaceful setting in the park with shade
Homer Davenport Community Festival across the creek!
DJ - Russ Strohmeyer playing great music and entertainment!
Lions Club Breakfast
Live Music, Food & Beverages across the bridge in the park!
Raffle Prizes all day long!
POKER WALK
Visit the Silverton Flywheels Facebook Page!
For more information, call Brian (503) 302-3471 or Rand (503) 580-9193
It's easy to share this event on Facebook, Twitter, LinkedIn and more,
using the buttons below !
Click
HERE
to return to the previous page