Cruise News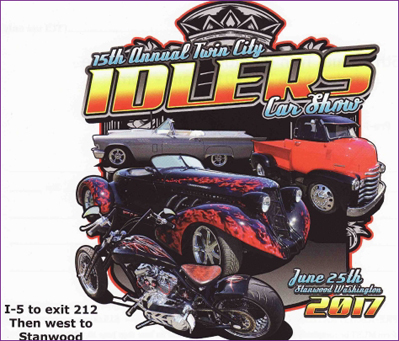 Date:
June 25, 2017
Time:
9 a.m. - 3 p.m.
Location:
Stanwood,
Washington
Description:
15th Annual Twin City Idlers Show & Shine
Sunday, June 25, 2017 (Show & Shine)
Held in Stanwood, Washington
9 a.m. - 3 p.m.
Register at the Show & Shine - $20.00 - Registration opens at 6 a.m.
and closes at 12 Noon.
This popular car show features classic cars, hot rods and custom vehicles. Show organizers expect to see more than 500 vehicles registered each year for this event. Food and crafts also are available for sale down the main drag, from Stanwood Middle School east to the railroad tracks. You won't see any nicer cars anywhere in the country than you'll see in Stanwood!
Saturday, June 24, 2017 - (Cruise)
Come join us on June 24, 2017 for a controlled cruise from 7 PM to 9 PM.
Trophies will be given out for the lights, wheels and tires, and engine at the end of the cruise. We will be meeting at the Thrifty Foods parking lot at the east end of old downtown Stanwood. Cruising will be on the main street through Stanwood.
Questions? Visit www.TwinCityIdlers.org or
Email waylo_1@juno.com
It's easy to share this event on Facebook, Twitter, LinkedIn and more,
using the buttons below !
Click
HERE
to return to the previous page