Cruise News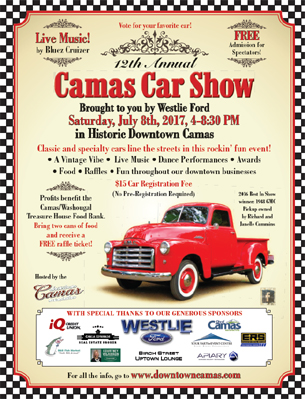 Date:
July 8, 2017
Time:
4 p.m. - 8:30 p.m.
Location:
Camas,
Washington
Description:
12th Annual Camas Car Show
July 8, 2017
4 p.m. - 8:30 p.m.
Held in Historic Downtown Camas, Washington
$15 Entry Fee
Open Event, no pre-registration necessary.
Come stroll the beautiful streets of historic Downtown Camas and enjoy the many classic and custom cars that fill the town. Old favorites and new discoveries in this 12th annual event.
Cars can start arriving into car show area at 2:00pm. Pre-staging available.
See website for details!
Admission is FREE to spectators.
Goodie bags to first 100 cars and dash plaques to first 200 cars.
Awards, Raffles, entertainment, live music, fresh food and more!
Benefits the Camas Washougal Treasure House Food Bank. Bring two cans of food and get a free raffle ticket!
Click Here for more information and registration forms or
call Carrie at 360-904-0218.
Classic and specialty cars will be lined along 4th Avenue and all side streets from Adams to Dallas. It will be a spectacular night!
It's easy to share this event on Facebook, Twitter, LinkedIn and more,
using the buttons below !
Click
HERE
to return to the previous page