Cruise News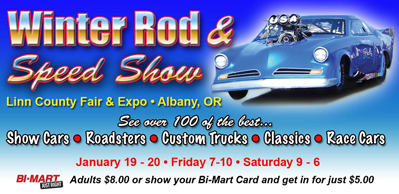 Date:
January 19th & 20th, 2018
Time:
See Information
Location:
Albany,
Oregon
Description:
Winter Rod and Speed Show
The 2018 Winter Rod & Speed Show has opened a 2nd building,
so there's more room for exhibitors and vendors!!
January 19th & 20th, 2017
Linn County Fair and Expo
3700 Knox Butte Rd E
(I-5, Exit 234)
Albany, Oregon 97322
Registration Fee - $25.00 (before October 31st, 2017)
$35.00 (after October 31st, 2017)
Don't miss out... the first 100 car exhibitors to enter the show
will receive a pair of FREE tickets to the Woodburn Dragstrip (a $50 value)!!
FREE trailer parking in the back of the building and RV hook ups
for vendor/exhibitor parking.
Show Hours - Friday, Jan 19th - 7pm-10pm
Saturday, Jan 20th - 9am-6pm
General Admission Fee:
Friday - $8.00 or $5.00 plus 1 can of food
Saturday - $8.00 ($3 discount with your Bi-Mart card or $3 off coupon
found at local businesses throughout the valley after Thanksgiving)
Kids 8 and under are FREE
Parking is FREE
Affordable Family Fun!
Show Cars * Muscle Cars * Hot Rods * Trucks
Race Cars * Scale Model Car Expo * Pin Stripe Pavilion and more!
The Winter Rod and Speed Show presented by Albany Burgerville and Wilson's NAPA Auto Parts returns to the Linn County Fair and Expo Center in Albany on January 19-20. Over 100 hot rods, race cars, muscle cars and street rods have already entered! New this year is live entertainment as Uncommon Denominator will be rocking the show on Friday night with live classic rock!
Featured this year is the "Death Mobile" from the movie Animal House. Also new this year is Garry Fauble's beautiful new Patriot Studebaker blown alcohol Pro Mod. Coming back thanks to Wilson's NAPA Auto Parts is world famous artist Kenny Youngblood who will do a framable drawing of a hot rod or race car for each patron free for the asking.
Plus, there will be a GIANT model car contest - one of the biggest in the Northwest, a wild NASCAR simulator and free Hot Wheels for the kids each day of the show! In addition, the first 100 adults will receives a single ticket to a major Woodburn Dragstrip event a 25.00 value. It's affordable family fun!
The doors open on Friday night at 7 PM and will be open until 10 PM. Bring a can for food for the Friday Night Food Drive and get in the show for just $5.00. On Saturday, the show opens at 9AM and goes until 6 PM. Canned food donations will also be excepted on Saturday for the same $3.00 discount.
Regular Admission is just $8.00, kids 8 and under are free. Three dollar off coupons will be available at local businesses through out the valley including Burgerville and NAPA Auto Parts Stores or you can use your Bi-Mart card for the same $3.00 discount. Parking is free!
The Linn County Fair and Expo Center is just 18 minutes south of Salem, right off of I-5 near the Albany Airport. Look for the Fair Expo exit.
Click Here for updates and exibitor/vendor applications!
Questions? Call 503-370-9164
It's easy to share this event on Facebook, Twitter, LinkedIn and more,
using the buttons below !
Click
HERE
to return to the previous page