Cruise News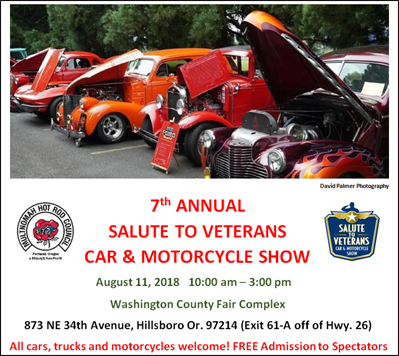 Date:
August 11, 2018
Time:
10 a.m. - 3 p.m.
Location:
Hillsboro,
Oregon
Description:
7th Annual Salute To Veterans Car & Motorcycle Show
August 11, 2018
10 a.m. - 3 p.m.
Washington County Fair Complex
873 NE 34th Ave.
Hillsboro, OR 97214
(Exit 61-A off of Hwy 26)
Gates open at 7 a.m. for show vehicles and vendors.
Pre-register by August 1st - $15.00
(includes entry into a $200 cash prize to be awarded at noon).
Register at the gate - $20.00
All cars, trucks and motorcycles welcome!
FREE admission for spectators!
Over 350 Show Cars, Trucks & Motorcycles, Car Corral, Active & Vintage Military Vehicles, Huey Helicopter Landing, West Coast Ravens Fly Over, SWAT Car, Police & Fire Vehicles, Race Cars...
Food,
Vendors,
Trophies,
Classic Tracks DJ,
Corral Creek Blue Grass Band,
Huge Raffle,
50/50 Raffle
and more...
All proceeds will support: Oregon Paralyzed Veterans of America (local projects), Returning Veterans Project, Salvation Army Veterans & Family Center (Transitional Housing for 80 homeless Veterans and their families) and the MHRC Scholarship Fund (assisting students pursuing automotive related programs).
Questions? Call Lynn at 503-780-4670 or email lynnkirwan1@comcast.net
It's easy to share this event on Facebook, Twitter, LinkedIn and more,
using the buttons below !
Click
HERE
to return to the previous page