Cruise News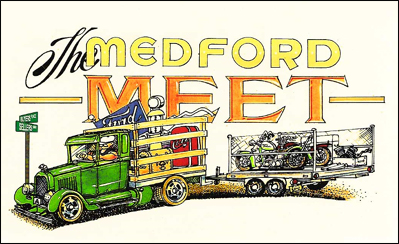 Date:
October 6th & 7th, 2018
Time:
See Information
Location:
Central Point,
Oregon
Description:
The Medford Meet (Swap Meet)
October 6th & 7th, 2018
Swap Meet Hours coming soon!
Jackson County Fairgrounds
Central Point, Oregon
2018 Expanded Venue with Indoor and Outdoor
Over 150 Indoor Spaces at the EXPO in the Seven Feathers Event Hall, and plenty of outdoor vendor space in the west lot next to the event hall.
To register for a swap meet stall and additional information,
visit www.themedfordmeet.com
Free Admission and $5 Parking
The Medford Swap Meet promises something for everyone, so plan on bringing your friends and family to beautiful Southern Oregon and be a part of this great indoor/outdoor automotive swap meet event!
The Medford Swap Meet is destined to be Southern Oregon's largest automotive swap meet with vendors from all over the Pacific Northwest. Better Car Shows, LLC provides 300 vendor spaces available in variety of sizes. Calendar this event and don't miss this great swap meet filled with automobiles, motorcycles and antiques.
Interested in selling your drivable vehicle? Enter it in the Car Corral area for auto or truck sales.
Questions? Call 541-973-9889
It's easy to share this event on Facebook, Twitter, LinkedIn and more,
using the buttons below !
Click
HERE
to return to the previous page