Cruise News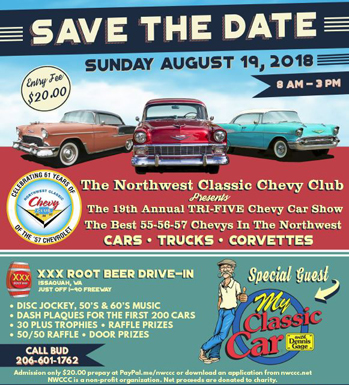 Date:
August 19, 2018
Time:
8 a.m. - 3 p.m.
Location:
Issaquah,
Washington
Description:
19th Annual TRI-FIVE Chevy Car Show
August 19, 2018
8 a.m. - 3 p.m.
Held at the Triple XXX Root Beer Drive-In
98 NE Gilman Blvd. (Just off I-90 Freeway)
Issaquah, Washington 98027
Entry Fee - $20.00
FREE for the public !
The Best 55-56-57 Chevys in the Northwest
Special Guest! Dennis Gage with 'My Classic Car'
Cars - Trucks - Corvettes
Celebrating 61 years of the '57 Chevrolet
Disc Jockey playing 50's & 60's music
Dash Plaques for the first 200 entries
30 plus trophies!
Raffle Prizes!
50/50 Raffle
Door Prizes
Net proceeds are donated to charity
Click Here to visit the Northwest Classic Chevy Club website for more info!
Questions? Call Bud at 206-601-1762 or
Email nomad.worley@gmail.com
It's easy to share this event on Facebook, Twitter, LinkedIn and more,
using the buttons below !
Click
HERE
to return to the previous page