Cruise News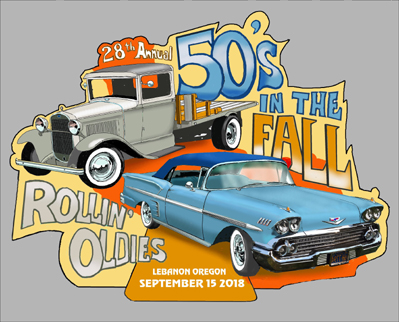 Date:
September 15, 2018
Time:
9 a.m. - 4 p.m.
Location:
Lebanon,
Oregon
Description:
Rollin' Oldies 50's in the Fall Car Show
September 15, 2018
9 a.m. - 4 p.m.
River Park
1235 E Grant
Lebanon, Oregon
Register at the show only - $20.00 per vehicle
Open to all makes, models and years of cars, pick-ups and military vehicles.
Free for spectators!
Awards at 3 p.m.
Super Drawing
Food Trucks
Vendors
50/50 Drawing to support the Oregon Veterans Home in Lebanon
Everyone's Favorite DJ: RUSS STROYMEYER
Questions? Contact David Faller at 541 619 7319 or
Email dafaller@comcast.com
Linda Stinson at 541 753 2714 or
Email lindassewing66@comcast.com
Dave Krumwiede at 541 497 2282 or
Email mauisurfguy@gmail.com
It's easy to share this event on Facebook, Twitter, LinkedIn and more,
using the buttons below !
Click
HERE
to return to the previous page