Cruise News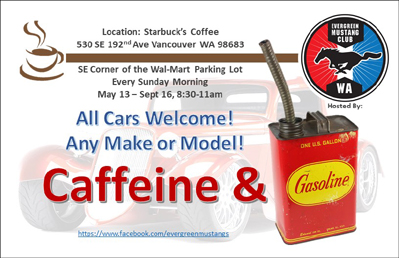 Date:
July 22, 2018
Time:
8:30 a.m. - 11 a.m.
Location:
Vancouver,
Washington
Description:
Caffeine & Gasoline
Hosted by Evergreen Mustang Club
Held every Sunday morning from May 13th - September 16th
Starbuck's Coffee
530 SE 192nd Ave
Vancouver, WA 98683
(SE Corner of the Wal-Mart Parking Lot)
This is a FREE event!
All Cars Welcome!
Any Make or Model!
Supporting Friends of Clackamas County K9, Donations are accepted
Join us on Facebook!
Questions? Call Mitchell Reynolds at 360-608-1980 or
Email mitchrreynolds@aol.com
It's easy to share this event on Facebook, Twitter, LinkedIn and more,
using the buttons below !
Click
HERE
to return to the previous page