Cruise News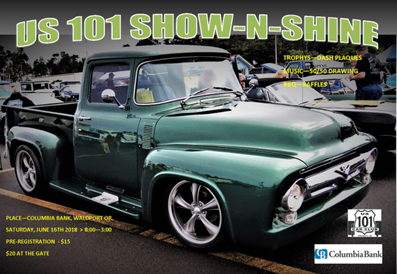 Date:
June 16, 2018
Time:
8 a.m. - 3 p.m.
Location:
Waldport,
Oregon
Description:
US 101 Car Club Show-N-Shine
June 16, 2018
8 a.m. - 3 p.m.
Held at:
1/4 mile East of HWY 101 on HWY 34
Waldport, Oregon
Pre-register - $15.00
Register at the Show - $20.00
The US 101 Car Club will again hold their Car Show beside the Beachcomber Days celebration. This is a small intimate show, and is well attended by the area car clubs. That means more time to hang out with friends, car owners and friendly curious spectators..
Over 30 Awards for many fun categories
Barbecue, Music and a good time for all.
"This Waldport event is known as Beachcomber Days and has been a local Annual Community Celebration for over 60 years! The event features a parade, Beachcomber Queen and Court, vendors, great food, a beer garden, Kid Zone, local merchants' specials, an art show, rummage sale, and much more down-home fun! There will be a 1pm to 10pm Saturday Street Dance with LIVE MUSIC, including classic-rock dance bands, and with The Purple Cats blues band headlining before the nighttime performance of the Sol Fire Dancers firedancing troupe!"
Participants Choice Trophys - Music - Food - Dash Plaques
50/50 - Raffles - Parade - Great Classic Cars
Over 30 Awards @ 2 PM
Click Here for registration, details and 2015 Video
Questions? Call Kent at 541-563-3845 or Paul at 541-547-3180
Email HansenK@casco.net or PJP@Peak.org
It's easy to share this event on Facebook, Twitter, LinkedIn and more,
using the buttons below !
Click
HERE
to return to the previous page