Cruise News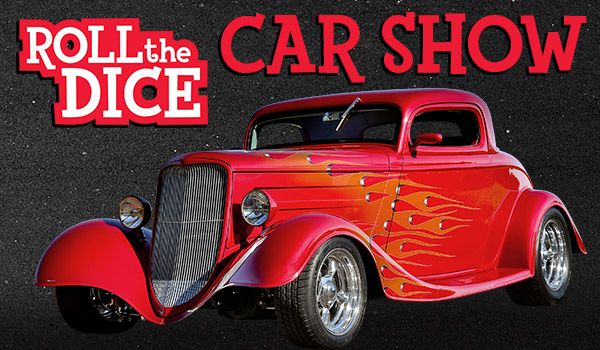 Date:
June 16, 2018
Time:
9 a.m. - 3 p.m.
Location:
Grand Ronde,
Oregon
Description:
Roll the Dice Car Show
June 16, 2018
9 a.m. - 3 p.m.
Spirit Mountain Casino
27100 SW Salmon River Hwy
Grand Ronde, Oregon 97347
Pre-register by June 2nd (11 a.m.) - $15.00 + 1 can of food
Register at the show - $20.00 + 1 can of food
Please turn your can of food in at the show!
Pre-registration is strongly suggested and all pre-registered vehicles
will receive a dash plaque.
Click Here to pre-register!
Get your hot rod into gear and mark your calendar for the Veterans Roll the Dice Car Show at Spirit Mountain Casino. We want you to join us for an afternoon filled with rods, food, exhibitors and live entertainment.
Gates open at 7:00 AM. (No early arrivals) The show begins at 9:00 AM. Presentations at 3:00 PM. Our parking lot will be transformed into a hub of activity for car aficionados. Get a close up look at hot rods, rat rods, and custom vehicles. If you own a vehicle that deserves a share of the limelight, show off your car at the show!
The Perry Gerber Band, 11:00 AM - 2:30 PM
The Perry Gerber Band is a Vintage Rock n Roll group from Portland Oregon. These guys rock retro oldies & cover tunes that are the family-friendly, toe-tapping, sing-along, danceable classic tunes that everyone loves.
Make sure you stay for the presentations at 3:00 PM to see decades of the flashiest and funkiest rods, customs, and rats.
Whether you're showing off your cars or simply soaking up the scene, the Roll the Dice Car Show offers guaranteed fun for the entire family. Enjoy the live music, savor the food and drink, and browse exhibitors. Spirit Mountain is proud to bring the best cars in the region to the heart of the Willamette Valley; start your summer off with a roar at the best casino in Oregon!
For more information about the show, contact Steve Bobb at 503-876-3118 or
Email stevebsr@embarqmail.com
It's easy to share this event on Facebook, Twitter, LinkedIn and more,
using the buttons below !
Click
HERE
to return to the previous page